This
post
was originally published on
this site
.
David M. Russell, Disney/ABC Home Entertainment and TV Distribution
As the new year approaches, there's always some reflection mixed in with the holiday cheer and vacation bliss. For Kelly Ripa and Michael Strahan, some of that final 2016 contemplation may fall on their television breakup. Simply, was it worth it?
After Strahan's sudden exit announcement, Ripa's subsequent call for "respect in the workplace" and all of the springtime drama that unfolded between April and May, the renewed spectacle around the decades-old talk show did more than just put the drama back in daytime—it stripped Ripa of a permanent co-host.
"I like having a partner," she told People ahead of Strahan's final show. "I don't think it works otherwise. I need someone sitting next to me."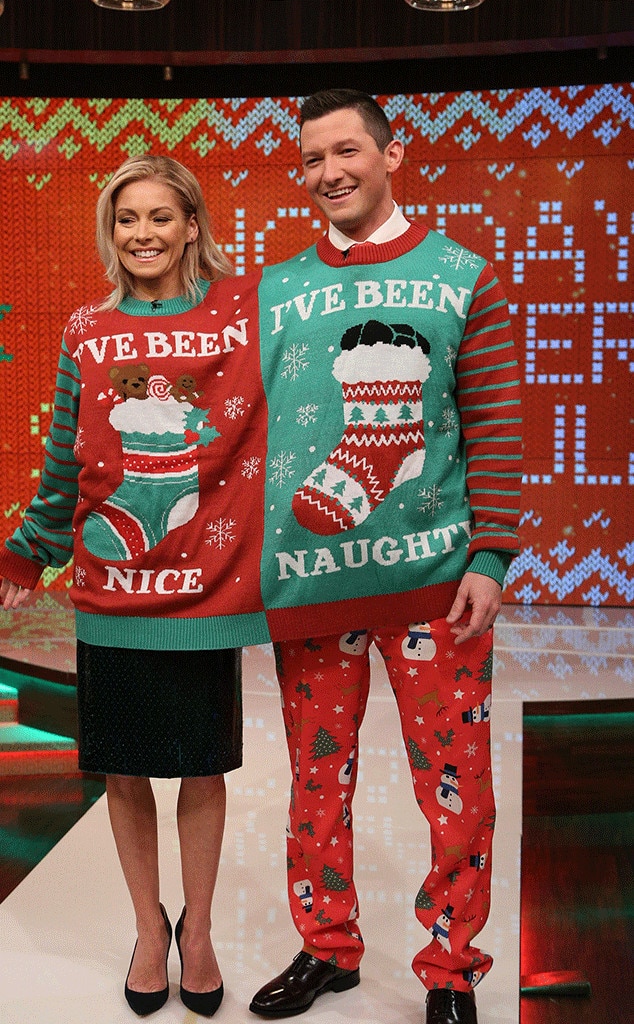 David M. Russell, Disney/ABC Home Entertainment and TV Distribution
Meanwhile, despite a solo summer for Ripa and mounting anticipation, fall and winter came and went without a permanent pick. Instead, producers added fuel to the fire by conducting a nationwide co-host audition, resulting in high school teacher Richard Curtis who they unexpectedly invited back to host four more times—with one more gig scheduled in the last days of December.
Simultaneously, a handful of additional frontrunners emerged in the co-host race, among them Fred Savage and Jerry O'Connell, the latter co-hosting Ripa's popular Halloween episode. While the revolving chair may not have been the permanence Ripa initially wanted, sources told E! News the strategy was working. As one source told E! News, the suspense was good for ratings.
Still, according to the numbers, viewers may have missed Strahan—or the stability he provided. For example, according to data from TV By the Numbers, in early November 2015, he and Ripa pulled in a 2.7 syndicated television household rating for the week. In the new year, the show oscillated around a weekly 3.0 rating and climbed to 3.6 the week Ripa made her highly anticipated return to the show after a four-day absence.
"Guys, our long national nightmare is over," she famously told the crowd that day while taking her mark in front of the camera to deliver one of television's standout monologues in 2016. The drama was high—and so were the ratings.
However, the wave would not last. While the show hit 3.3 on the week of Michael's last day on the show, by the fall season premiere, Live! With Kelly had dropped to 2.5 and would fluctuate between that and 2.4 as compared to the previous year's 2.7.
Over at Good Morning America, where Strahan was promoted to full-time co-host for the fall season, viewership was most recently at 4.74 million viewers for the week of Dec. 12, while a year ago, there were 4.92 million eyes on the morning news program, according to TV Newser.
While it does not seem like Strahan's regular screen time has severely bolstered viewership, as is the case for both shows, there are other elements at play when it comes to measuring television success and progress, including the market, the timing, the other talent and the content.
Though it doesn't seem like either star has been exponentially better off without the other as far as metrics are concerned, ultimately, it all boils down to personal happiness.
"I really haven't missed it," Strahan said of Live! on Chelsea. "But I loved it. Don't get me wrong. I loved it. When you get a break, sometimes you kind of go, 'Wow, I kind of needed it.' I needed a break."
Despite the messy circumstances around his departure, Ripa always had equally kind words for her work partner of four years.
"I just want to say, on behalf of myself and all of us, we couldn't be prouder of you. You have given us so much joy in the mornings, from your smile to your sense of humor to your horrible French accent. We really are so, so proud of you," she told him on his last day. "We've achieved so much together and I look forward to watching you every morning and seeing what you achieve."
Here's to seeing what they both achieve in 2017.