This
post
was originally published on
this site
.
Courtesy Food & Wine Classic in Aspen
Everyone is gearing up for the holidays, including chef Tom Colicchio.
The restaurateur and Top Chef head judge opened up to E! News about getting ready for the holidays and dished (pun intended) to us about his traditional Christmas Eve meal. "I pretty much make the same meal every Christmas that I've made for the last 15 years," he said. "Growing up in an Italian-American household on Christmas Eve it was always big fish that we would do."
Prepare to start drooling. "It starts with fritto misto. It's usually cod, bay scallops. There's some sol and some calamari," he said, "and there's also fried fennel and fried lemon and fried parsley."
Colicchio also feeds his family salt cod and shallots with a beet and anchovy salad, as well as a fish stew and roast cod. In other words, his family follows the Feast of the Seven Fishes.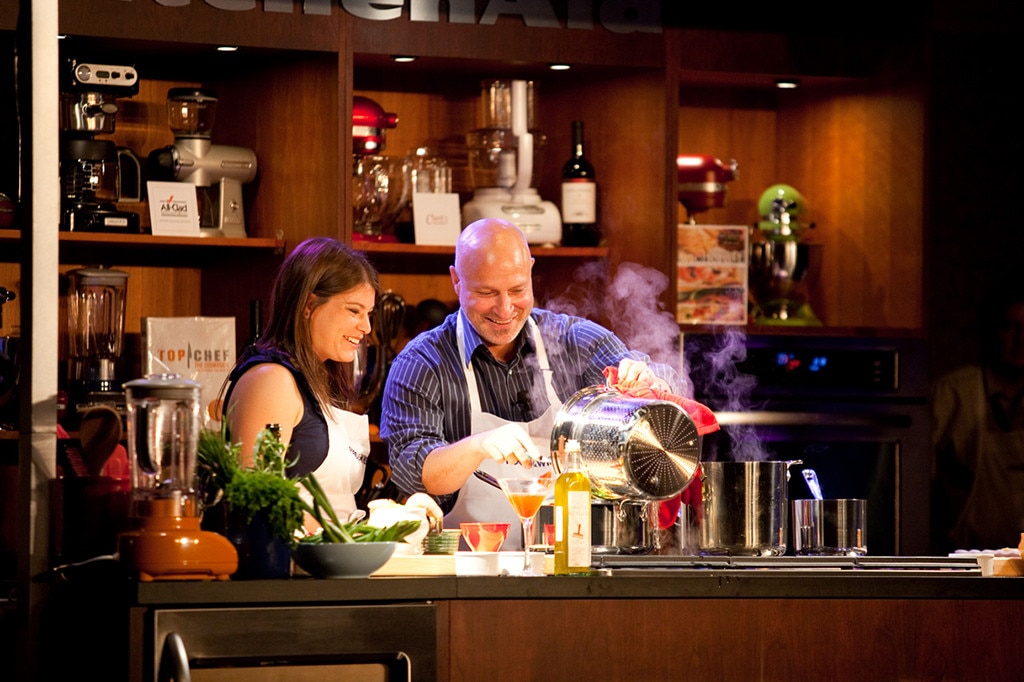 Courtesy Food & Wine Classic in Aspen
But with so much delicious food on the menu, Colicchio knows to prepare in advance. Preparation, he told E! News, is key. "If you're a chef you understand the idea of getting stuff done ahead of time," he shared. "It's not the final cooking. My goal once I start cooking—I don't want to use a knife anymore unless I'm cutting something at the very end, like slicing a roast. All the prep work is done. All the chopping is done. If I'm using garlic or parsley or something like that it's chopped a day in advance. Put into small containers and it's ready to go."
Colicchio also gave us some major dos and don'ts in the kitchen. "Just keep the kitchen organized," Colicchio said. "Getting your prep work done ahead of time. That's a big do.
"A don't is trying to do too much. One thing I never do at home is plate food," he continued. "Everything is served family style. I never make individual dishes at home. At the restaurant we do, but it's a mistake at home to plate food because it takes a lot of time. If you're plating individual dishes you'll never get anything to the table hot. It's not like at a restaurant where there are six people plating food. It's a little different. That's one thing I don't like to do."
But when Colicchio isn't worried about feeding his family, he's thinking about Top Chef. This season takes places in Charleston, South Carolina, and the culturally full city will continue to take center stage. "We're in the South and we are focusing on southern ingredients and southern traditions," Colicchio said, "so there's just more of that coming."
Fourteen seasons of contestants have yielded some incredible alumni, but Colicchio is proud of "so many of them," including the Voltaggio brothers.
"That's what's really great about our show is that people who are on the show—the contestants—are professionals and they go on to have great careers," he shared. "They've all done just so much with their careers, and I think that's a real testament to casting. We're really casting great chefs."
If you're looking for even more tips from Colicchio, he'll be hosting cooking demonstrations at the Brooklyn Food & Wine event at Barclays Center on Feb. 17 and 18, 2017. He'll be joined by some Top Chef alumni, including Dale Talde and Carla Hall.
More info and tickets are available at the festival's website.
(E! and Bravo are both part of the NBCUniversal family.)