This
post
was originally published on
this site
.
The Bachelor's Ben Higgins picked the girl. Now, he needs to pick the date.
Since proposing to Season 20 contestant Lauren Bushnell at the start of 2016, the Indiana software salesman is stepping into 2017 with a renewed focus on getting down the aisle.
"Wedding clarity," he told E! News of his love resolution for the new year. The reality star caught up with E! at the Sycamore Tavern during The Bachelor charity viewing party benefiting SheLife and Globe-athon.
"2017 I hope is the year that we have huge steps in either getting married or having a really good idea of when we're getting married, but right now we don't," he admitted.
The delay is understandable—after watching their love story play out on national television, the busy couple stepped in front of the cameras again for another reality show on Freeform, Ben and Lauren: Happily Ever After? It was during the series that the pair gave fans a scare when Higgins candidly told his fiancé that he wanted to call off the wedding.
"I feel like we have so much to figure out that it's hard for me at this point to really feel comfortable getting married," he told her in an episode. "I'm not leaving you. I'm not. Don't think that for a second."
The two later clarified on social media that they "are better today than ever before" and vows are still in their future. In hindsight, did they have any regrets about the highly revealing project?
"I'm torn. One of the things we wanted to do in our new season was allow people to come into our life, to see the issues that we have and to see the experiences that we have, to see the arguments that we have," Higgins explained to E! News.
"I wanted it to be transparent, but some of that isn't exactly healthy to do in a public setting. So, that is meant to be private. So, as much as it was a good thing to show it, and we wanted to show it, I look back on some of that and say there was some nights where we just both like, it hit hard. It hurt."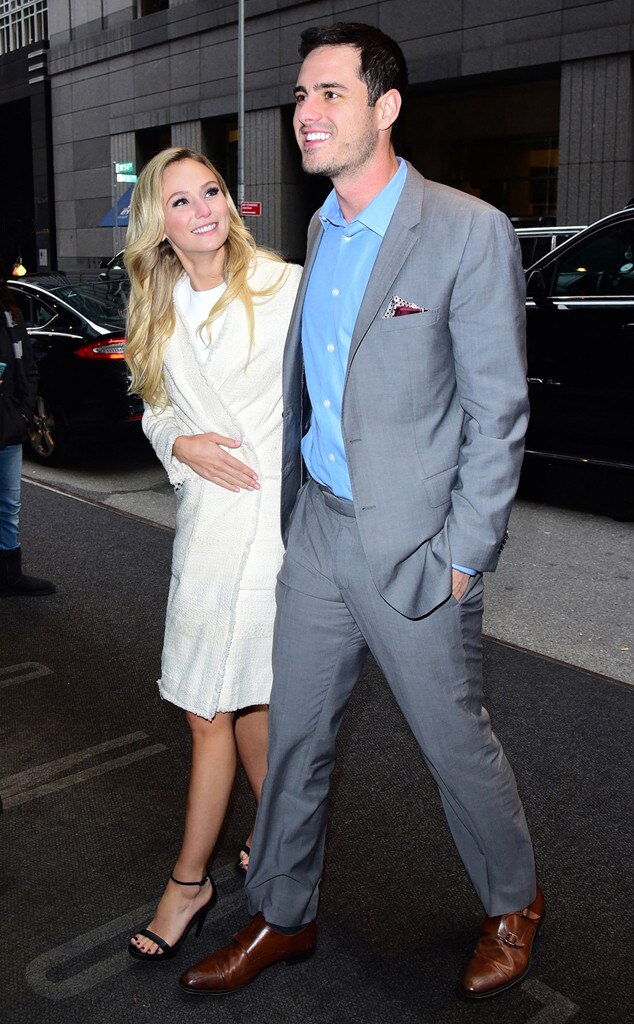 AKM-GSI
According to Bushnell, they need to resume ordinary life without the cameras and crew before they can start picking out floral arrangements and bridesmaids dresses.
"We're both ready to start planning, but we needed a break between finishing filming and then the holidays happened and we were like, 'Ok, 2017, the beginning of the year, January, which is now, we'll really start sitting down and making those plans,' so I think that's where we are," she told E! News.
"I think once we're done with this event, we'll go back to Denver. Neither of us have been home in like three weeks, so we'll go back to Denver and I think it's exactly what Ben said. We'll start sitting down and actually putting things on the table, whereas before there was so much on our table."
It doesn't hurt that they don't mind their current status. "Both of us are also kind of indecisive people, which is not good," she said with a laugh. "We're like, we want to be married! But, we also really are enjoying being engaged."
While they didn't ultimately become Mr. and Mrs. Higgins in 2016, their lives changed all the same.
"I have gone through more changes in the last year than I think I have probably in the last ten years," she said. "It's been really overwhelming at times! I've been so anxious and confused and like, 'What the heck is going on?' like a deer in headlights kind of. I think now, looking back, you know it's a new year and looking back on the last year, I can really say it's all been worth it. I've grown so much as a person and Ben and I have grown so much as individuals and as a couple and I wouldn't really change anything."
Well, there is just one thing. When asked what her love resolution for 2017 is, she replied: "patience."
"I think I could really work on that in life in general, honestly."