This
post
was originally published on
this site
.
Jeffrey Mayer/Getty Images, Frazer Harrison/Getty Images, Kevork Djansezian/NBC/NBCU Photo Bank via Getty Images
Depending on who you ask, getting ready for the red carpet can be so much fun… or so frustrating.
A glam squad is a must for achieving perfect hair and makeup, and the right shoes and accessories can make or break an outfit. Ultimately, though, a look begins and ends with the dress—and an increasing number of celebrities are speaking out about how challenging finding that dress can be if you don't wear a designer's so-called "sample size."
In Hollywood, whether you're a size 6 or 16 or beyond, the red carpet options offered to you tend to be limited compared to what's available for women in the size 0 to 4 range. Just ask Bryce Dallas Howard, Leslie Jones, Dascha Polanco, Danielle Brooks, Gabourey Sidibe, Christina Hendricks or Octavia Spencer—all celebrated stars who've spoken out about the lack of designer choices provided for them because they don't wear the traditional sample size.
Project Runway mentor and author Tim Gunn, who's become an outspoken advocate for more diversity and body inclusivity in the fashion industry, tells E! News the idea that some designers would only dress women in the 0 to 4 range is "appalling" and "enough to make me want to throw myself off a bridge."
There are, fortunately, a handful of designers who are eager to dress women of all shapes and sizes for red carpet events. Christian Siriano, for example, offered to dress Jones for the Ghostbusters premiere after she tweeted there were "no designers wanting to help me with a premiere dress for [a] movie."
Siriano's response resulted in a viral moment, and Jones' gorgeous gown had people talking even before she hit the red carpet. Gunn says that Siriano jumping on the "incredible opportunity" to dress Jones is something that "sends a wonderful message to [other designers] and it should inspire them" to follow suit.
Howard revealed to E! News on the 2016 Golden Globes red carpet that she bought her Jenny Packham gown at Neiman Marcus herself, "because I like having lots of options for a size six as opposed to maybe one option, so I always go to department stores!"
Spencer, meanwhile, is almost always clad in Tadashi Shoji, having found her match in the designer, who's been dressing her for the red carpet since 2012, when she won her Best Supporting Actress Golden Globe and an Oscar for The Help.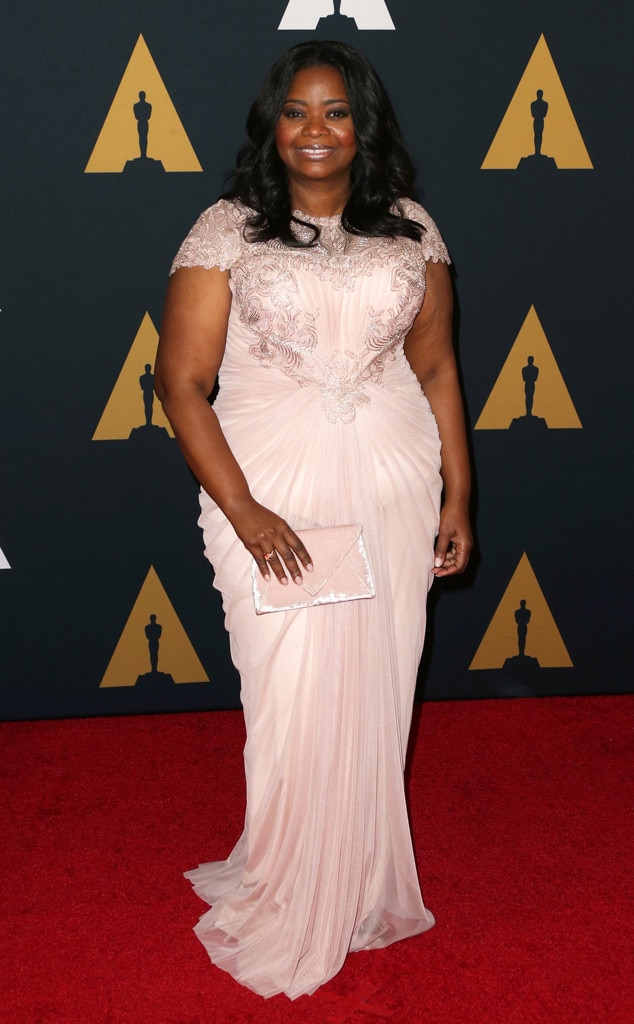 Frederick M. Brown/Getty Images
Already acclaimed for his success at dressing women of all sizes when Spencer became one of his muses in 2012, Shoji told the International Business Times that designing for fuller figures was "no problem. Our forte, our strategy are specialty designs. We can fit any type of women. It was so easy."
CHROMAT's Becca McCharen is another designer making a conscious effort to promote body diversity in fashion. As the label's founder and head designer, McCharen consistently features plus-size models, women of color and transgender women in her runway shows, and unlike many others in the industry, CHROMAT's "sample size" isn't just something that can be worn by women in the 0 to 4 range.
"With CHROMAT, because we work with plus-size models and multiple sizes on our runway shows, we build the initial prototypes in those different sizes," McCharen tells E! News. It's limiting if you "make one set of prototypes for your entire collection in one size," she explains.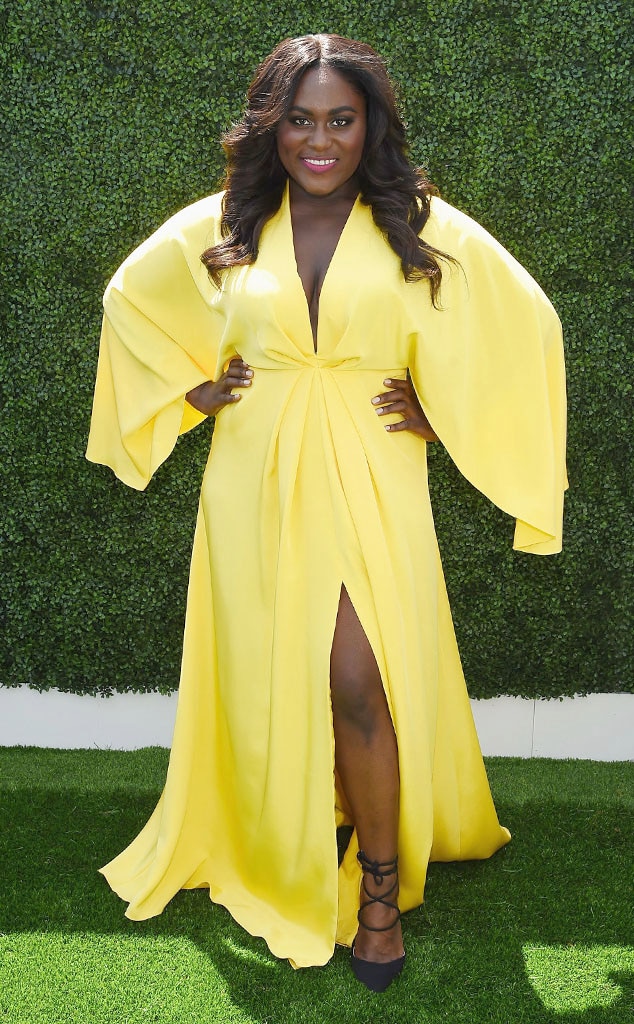 Dimitrios Kambouris/Getty Images
That's why McCharen hopes other designers will follow suit in "building their initial samples and prototypes in a multitude of sizes," she says—even if it does mean "putting in a little extra work."
The CHROMAT visionary, whose designs have been worn by stars such as Beyoncé, Nicki Minaj, Taylor Swift , Ariana Grande, Rita Ora and Madonna, says she "[doesn't] understand" other people in the industry who "worry so much about whatever it is their identity may be" that they only want to dress a specific sized woman on the red carpet. McCharen points out that there are "a lot of people working to change this kind of historic view of narrow-mindedness," yet it still seems designers like her and Siriano are exceptions to the rule.
The reason for this? Lauren Downing Peters, a Ph.D candidate at the Centre for Fashion Studies at Stockholm University who has done extensive academic research on plus-size fashion, tells E! News "the short answer is that the fashion industry has a problem with fat stigma." Peters says this viewpoint isn't just held among those in the fashion industry, but rather, it's one "that's shared among most Americans or most westerners, perhaps."
"I feel like that if the public consensus is that if you're plus-size, it means you're unhealthy and you're living an unhealthy lifestyle, it's not exactly an image that fashion designers want to really associate themselves with," says Peters. "They don't want to be seen celebrating or upholding something that the wide majority of people see as being unhealthy."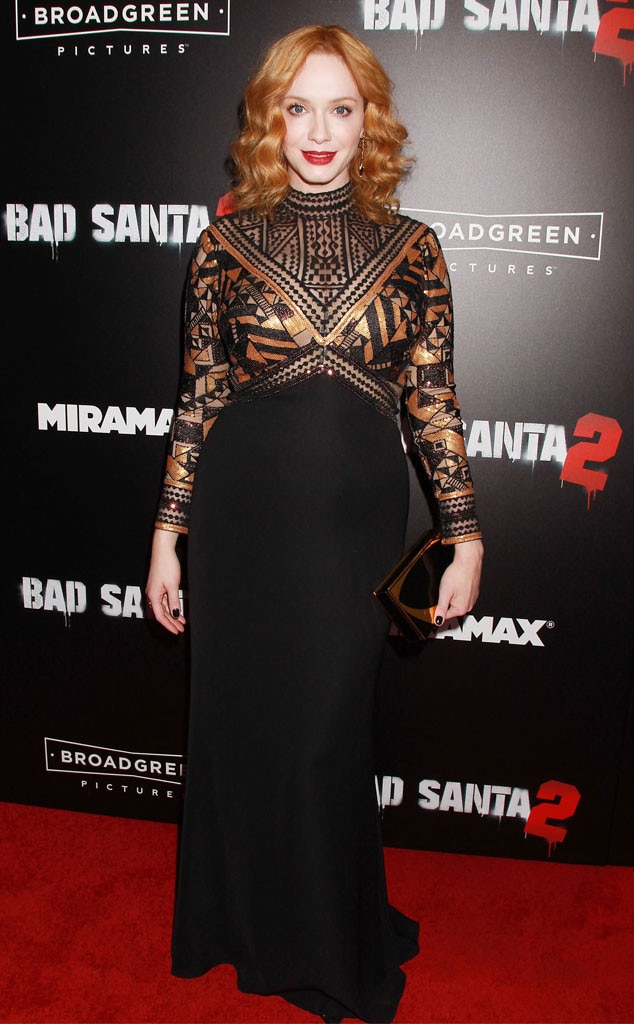 Dave Allocca/Starpix
Peters points out that almost every time we have a "body positive" moment, like Melissa McCarthy launching her own line or Amy Schumer putting the body shamers to shame, "there are always these discussions that happen about health." The public consensus, she says, seems to be that a woman "can be proud of her body, so long as she's healthy."
We've culturally moved past "the super-slender, heroin-chic beauty ideal that was so popular in the '90s," says Peters, but today, "you have to be both thin and athletic and strong—all at the same time…[It's] this ideal that's incredibly impossible to attain."
McCharen says perpetuating "such an exclusive, narrow view of what beauty can be" is both "dangerous and damaging" to society, and as Peters notes, the body types we see represented on the red carpet actually "have a huge impact" on our culture as a whole.
"If what we're seeing continually within advertisements and in the movies and on the runways is this really slender beauty ideal, then that's what we're ultimately going to come to think is normal, or what we should strive to attain," Peters explains. It's for this very reason that "there's a lot of power" in designers collaborating with different sized women—particularly those who are considered plus-size.
"If fashion designers began working more closely with these plus-size movie stars, then we can kind of…change public opinion about what it means to be plus-size," Peters tells E! News, "because if they look beautiful, if they look fashion forward, then they're going to be defying these stereotypes that to be fat means to be lazy or unhealthy, or plus-size means you don't care about your appearance."
Gunn admits that designing attractive clothes for plus-size women "is not easy," but he says "it can be done, and it's worth the effort."
It can also be good for business.
As McCharen tells E! News, she's "really proud" CHROMAT is known for celebrating body diversity, and she hopes other designers "see [that] it's a positive thing [and] will help your brand."
She's optimistic about the future of the industry. "I do feel positive," says McCharen. "I feel like the more conversations we have like this, the more people are aware of it."
It's encouraging, too, to see more people working toward "expanding this view of beauty" to include all types of women, says McCharen. She also points out that while designers have been "historically white" and "a lot of them have been men," this is changing. Now, more women of color and diverse backgrounds are the designers "and people in charge [who are] making the decisions," and as this happens, we can expect to see diversity reflected on the runways and the red carpet.