This
post
was originally published on
this site
.
Alexis Ohanian didn't waste any time when it came to putting a ring on Serena Williams' finger.
The tennis pro shocked everyone today when she announced that she's engaged to the Reddit co-founder, especially since the couple kept their relationship so hush-hush.
Williams first shared the news via her verified Reddit account, natch, posting a sweet poem beside a cartoon sketch of Ohanian getting down on one knee. "I came home/ A little late/ Someone had a bag packed for me/ And a carriage awaited," she wrote. "Destination: Rome/ To escort me to my very own 'charming'/ Back to where our stars first collided."
She continued, "And now it was full circle/ At the same table we first met by chance/ This time he made it not by chance/ But by choice/ Down on one knee/ He said 4 words/ And I said yes."
Ohanian responded to the post via his own Reddit account "kn0thing" (hence the "Mrs. kn0thing" in the drawing), writing, "And you made me the happiest man on the planet."
While we're ecstatic to see Serena found her Prince Charming, we can't help but be eager to learn more about the future Mr. Williams.
Here are 10 things to know about the tech cutie who swept this athlete off her feet…
1. He's Smart and Funny: What a great combo. Ohanian illustrated his clever wit in the About Me section of his website, where he wrote, "Alexis was born in Brooklyn, NY but grew up in the suburbs of Baltimore, MD where he slowly realized his desire to play professional football would potentially not pan out. So, after graduating from UVA, he turned his efforts towards making the internet a better place. … While he is still patiently awaiting the news of his starting position in the NFL, he currently spends his free time investing in startups, passionately cheering on the Washington Redskins, and [FaceTiming] his cat, Karma. His mother always told him he was special."
2. He Did Actually Play Football: Just not professionally. Ohanian shared a throwback Instagram photo of his high school football team and shared, "I never started, barely even played, but some of my best lessons in leadership and teamwork came from being out of my element here with these guys. I wasn't going to be captain on this squad, but fortunately, I found my element. thanks for everything–even the two-a-days, coaches…. #TBT."
3. Yes, He's Taller Than Serena: Many were quick to compare Williams' famous fit build to Ohanian's stature, but everyone can calm down. Aside from the fact that none of that really matters (really people, priorities), the Armenian-German-American internet mogul stands at 6-foot-5, which seems just right to spoon the 5-foot-9 pro.
4. He's Done More Than Just Tech: Yes, he may have made his biggest mark as the co-founder of what is now the seventh largest website in the U.S (which has also been valued at $500 million by venture capitalists), but Ohanian also hosted a show, Small Empires, about tech startups, and became a national best-selling author after publishing his 2013 book, Without Their Permission.
5. He's Also an Internet Activist: Ohanian has been dubbed the "Mayor of the Internet" after constantly standing up to Congress against overregulating the internet. In late 2010 and early 2011, Ohanian spoke out against the Stop Online Piracy Act (SOPA) and the Senate's Protect IP Act (PIPA), spearheading internet-led campaigns that eventually overturned the two bills. Additionally, Ohanian also spoke to members of Congress and at rallies.
Neville Elder/Corbis via Getty Images
6. He Was on Who Wants to Be a Millionaire: Well, kinda. He was part of the question. It read: "Snoo, the red-eyed alien first doodled by co-founder Alexis Ohanian back in his college days, is now the mascot for what influential website?" Ohanian posted a screenshot on Instagram and captioned the photo, "She got it right. Had to use a 50/50, though. #achievementunlocked."
7. He's Team Planet Earth All the Way: Don't count on Ohanian to join Elon Musk on that plan to colonize Mars. Though he was pleased that Musk was finally "getting America to give a damn about space exploration again," Ohanian shared that he will not be one of the first 10,000 or even the first 100,000 people going to Mars during a live chat on the site Product Hunt. He also touched on the conversation on Instagram, writing, "Planet [Earth] for life. Sorry, Elon. We still have a lot of work to do on Earth. This is great news for humanity, though."
8. He's Great With Kids: Along with participating in organizations that help young students, Ohanian shows that he has a way with kids on his Instagram. One particularly cute photo shows the 33-year-old hanging out with his goddaughter. "Lazy Sunday with my goddaughter, Mia. She baked us cookies with her new easy bake oven, I totally beat her at tag but she changed the rules on me into Mia-ball and won somehow, then we read a book together. I do voices," he wrote. "My sloth is really good." Seriously, ovaries are swooning everywhere.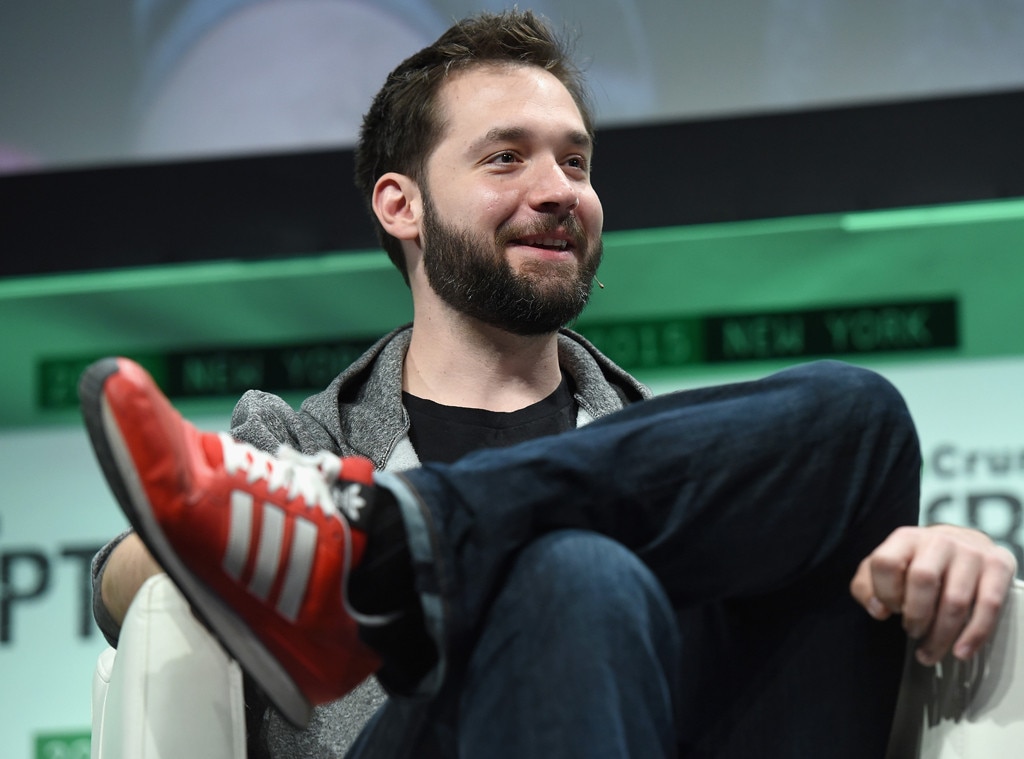 Noam Galai/Getty Images for TechCrunch
9. He Always Had It Right: Even as a high school student, Ohanian had a good head on his shoulders. He posted a throwback video of a speech he gave during his high school graduation, where he said, "The only future we have is that which we make for ourselves. I challenge each and every one of you to go out and do something. Something that inspires you, something that enriches you, something that leaves your mark on society. The size of your impact should not be measured in media coverage or the number of figures on your paycheck, but rather the affect you have on the world around you." He definitely lived up to that challenge.
10. He's Serena's Biggest Fan: Last, but definitely not least, Ohanian is not shy about promoting, supporting and cheering on his legendary lady. Calling her "queen," Ohanian has shared numerous social media posts praising his soon-to-be wife for her accomplishments. As a successful woman, what more could Serena ask for from the man you wish to spend the rest of your life with?