This
post
was originally published on
this site
.
Disney Channel/Mitch Haaseth
Girl Meets World changed everything for Rowan Blanchard and Sabrina Carpenter.
The actresses, who play Riley Matthews and Maya Hart, took to Instagram after the show's writers confirmed that the hit series' current third season would ultimately be its last. In a statement, Disney Channel confirmed the cancelation, telling E! News, "We are proud that for over 70 episodes, Michael Jacobs, April Kelly and the talented creative team, cast and crew entertained viewers with an authentic and heartfelt look at navigating adolescence."
The final episode, titled "Girl Meets Goodbye," will air Friday, Jan. 20.
Girl Meets World also starred Danielle Fishel, Corey Fogelmanis, Ava Kolker, August Maturo, Peyton Meyer, Amir Mitchell-Townes and Ben Savage. Many Boy Meets World actors—including William Daniels, Will Friedle, Lee Norris and Rider Strong—reprised their roles.
In an Instagram update, Blanchard tried to put into words how she was feeling about the future. "I have tried to go in and write this many times in preparation for this moment that I feared might come," the actress, 15, said. "I will never be able to put into words my gratitude for Michael Jacobs, the creator of our world, for bring us together—by all, I mean us and you."
Being on the popular reboot "is the most significant event in my life thus far," Blanchard continued. "It changed absolutely every aspect of it, and takes up most of the life I am able to remember. It is with this cast family I experienced mourning and heartbreak and overjoyment and long days that turned into long nights, each and every moment so painstakingly beautiful."
Starring in a show during her formative years has been "so indescribably cosmic and scary," she said, "but you do it because you love these people, because this has become your routine, because it is the closet you will get to being in real school, etc. I am crying typing this because yes, we were making a show, but our lives turned into a movie. We dressed as The Breakfast Club, hid under stairwells to tell each other about our crushes, sobbed together when we suffered the death of our teacher…These are things you don't forget. That I will never forget."
"I am trying to explain to myself these moments are forever. That this energy must amount to something much greater than a simple end," she said, adding that she is "endlessly indebted" to the crew for allowing them to laugh and play, and "for hugging us and bringing us tissues and allowing us to jump on the set couches until we fell on our heads (or maybe that was just me)."
"As for you, well, I don't know where to begin," the teen actress told her 4.8 million followers. "I am so honored to call you our audience. You allowed a dream to breathe. You have given us so much, you give so much, and for that we genuinely will never be able to repay you. Thank you for the parents who brought your kids to our shows, thank you to the kids for watching us. There is so much power in an audience that goes unsaid. Everything we did was in effort to give you the lessons we thought you deserved, that we knew you needed. We tried to represent you as best we could, but more than that, we aimed to be accepted by you. Thank you for that."
Blanchard added that she was comforted to know that the characters on Girl Meets World reflect real friendships throughout the world. "If we have ever become the reason for a friendship, or heightened one, then goodness, thank God, we did our job," she told her fans.
"Please continue to watch the show. To talk about it. Teens determine and influence all of this in general, and I hope and think our show reflects you for how you are: brave, opinionated, devoted, dynamic, loving, nurturing and powerful," said Blanchard, who stars in A Wrinkle in Time. "People, more than often adults who have forgotten their power, will tell you differently and I hope that this is when you turn to our show, which is now your show. I will continue to fight to not be talked down to by the shows and books and movies that are aimed towards us."
Admitting she's upset with Disney Channel's cancellation decision, the actress wrote, "I am sorry that this channel is just not able to understand that (don't think that for a moment this happened because of you). But I know what we are capable of. I know very well what we did. I am above all humbled to know I belong to such an extraordinary generation. What an honor."
In conclusion, Blanchard said she was "filled with gratitude," telling her fans, "I love you. I love this cast. I love this crew I love Riley. I love this world we made. I love that it is now your world."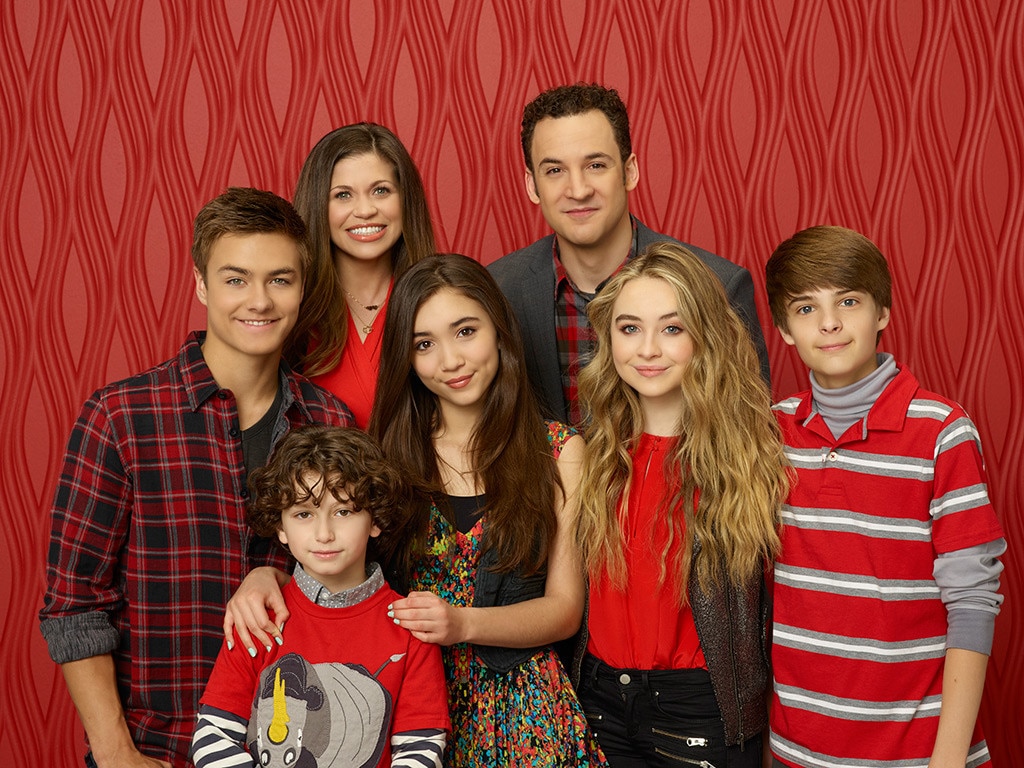 Disney Channel/Bob D'Amico
Friedle, meanwhile, summed up his feelings with a single tweet. "I tip my glass to the cast and crew of GMW," the actor, who played Eric Matthews, wrote. "You did us proud. I love you all." After reading Blanchard's note, he told his Twitter fans, "Beautiful words. Forever my niche…"
Like Blanchard, Carpenter also shared her thoughts via Instagram.
"We speak in the language of love, heartbreak, friendship, family, sadness, and laughter. Wherever we are in the world, whatever we believe in, whoever we love, we all speak that language," the 17-year-old actress explained. "We had the privilege of growing up in front of your eyes. The privilege of teaching the lessons we were learning ourselves and beyond that."
"To the family that was created on our set, between the cast and crew, thank you for giving us the ability to make mistakes and to grow. I felt so safe in that bay window. People thought it was weird that I was excited to go to work," the teen star continued. "People thought it was weird that we really did and still do love each other. That's a rare entity, we hold that tight."
Carpenter thanked the network for green-lighting the show in 2013 and giving the "characters the chance to see the light of day. I know I feel very lucky to have given life to Maya Hart." Jacobs, meanwhile, got a special shout-out. "Without you I wouldn't know most of what I do," the actress confessed. "I also probably would have never had two paint fights in my lifetime."
"We live in an intricate world. We can be adversaries whilst being allies. To everyone that watched our show and felt something, thank you," Carpenter wrote. "To everyone that grew up watching Boy Meets World and decided to give our story for a new generation a chance, thank you. And to the little girls reading this, you can do whatever you put your mind to. You're gonna meet the world now, and I think you'll love it. Quoting the late filmmaker Federico Fellini, the actress added, "There is no end. There is no beginning. There is only the infinite passion of life."