This
post
was originally published on
this site
.
Denise Truscello/WireImage
There are no winners when family members are at war.
Last week, attorneys for Khloe Kardashian, Kourtney Kardashian and Kim Kardashian's corporations Khloemoney Inc., 2Die4Kourt and Kimsaprincess Inc. filed papers to formally oppose Blac Chyna's application to trademark her future married name.
While a family source told E! News that "their trademark attorneys automatically oppose anyone trying to trademark 'Kardashian'" and that "everyone loves each other," they also don't have any plans to stand down when it comes to business.
As a family source recently revealed, the Kardashians have not called off the lawyers or pulled the lawsuit against Chyna despite new reports. "They still oppose the copyright. Simple," the source said.
Chyna's attorney, Walter Mosley, also commented on the matter, telling E! News, "I have not heard any correspondence from opposing counsel. Whether or not anyone has spoken to Angela or whether specifically Kris has spoken to Angela I do not know at this time. Ultimately none of that matters unless and until the opposition is dropped."
In an earlier statement, he said, "Since we are in the midst of litigating this matter, I cannot comment directly at this time. However, I will continue to aggressively represent Angela and work diligently with her to protect and grow her intellectual property."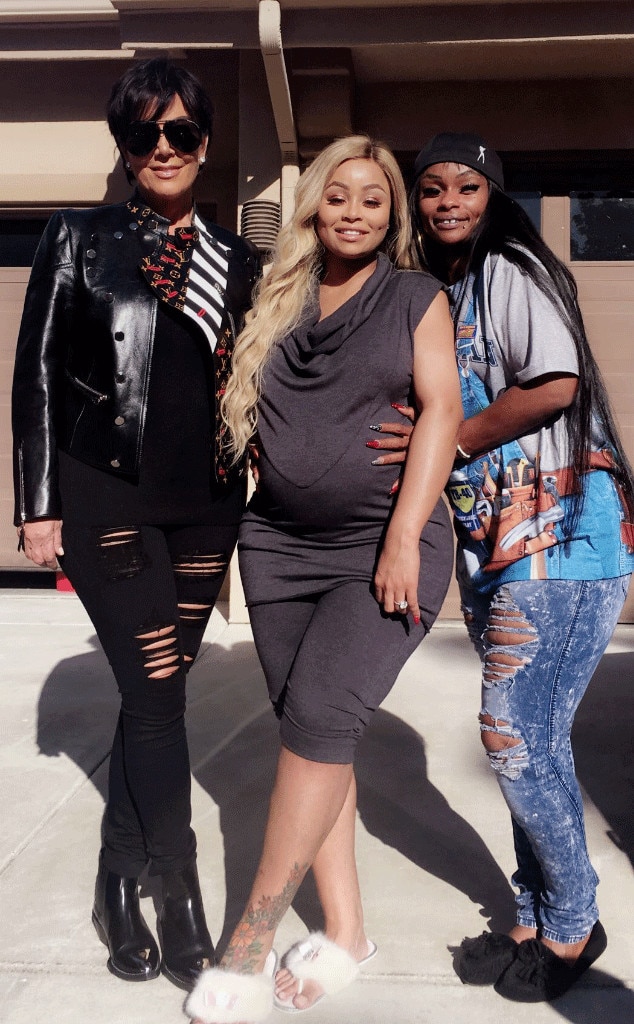 Snapchat
Meanwhile, Chyna's outspoken mother, Tokyo Toni, has taken to Instagram to air her feelings about the entire ordeal, calling her daughter "an ambassador to all women today."
"Blacchyna has my support 110% no matter what! You cant you just can't stop what God has plans for," she wrote on Instagram Friday. "Ps People need to relax it's enough shine money Tv airtime play selfie sticks and camera footage for everyone! Sharing is caring but hold up didn't they watch Mr. Rogers neighborhood!"
In the Kardashian filing, the paperwork states that the sisters have "spent, and continue to invest, a substantial amount of time, resources and money in protecting, advertising and promoting the 'Kardashian' marks" and that "the public has come to associate goods and services bearing the 'Kardashian' marks" with them.
The company's filing also accuses Chyna of "deliberately seeking to profit from the goodwill and popularity" of their 'Kardashian' marks. The paperwork claims that each of them will be damaged by her future name registration, which is "likely to cause confusion, or to cause mistake, or to deceive consumers."