This
post
was originally published on
this site
.
Neilson Barnard/MTV1617/Getty Images for MTV
Kanye Westhas felt some of the greatest highs in his life, as well as experienced some of his greatest frustrations, while creating.
Like artists who take their work seriously are wont to do, he relishes giving himself over to his craft, whether it's in the studio or on stage, and he has frequently implied—particularly through his lyrics—that he himself is a work in progress, much like a painting or, quite literally, his The Life of Pablo album, which he famously debuted to much fanfare while he was still putting the finishing touches on it.
"Shut the f–k up and enjoy the greatness," he tweeted the day after the album's release.
For the most part, that's what people did, and TLOP was just nominated for five Grammys, including Best Rap Album, and West overall has eight nominations, including one as part of the production team behind Drake's Album of the Year-nominated Views.
He's also considered one of the most high-profile snubbed artists because TLOP isn't up for Album of the Year, which West has been nominated for five times but has yet to win. He's won 21 Grammys through the course of his career, including Best Rap Album four times.
But as we all know by now, Kanye has a checkered relationship with award shows. He's enjoyed, by turns, making a spectacle of himself, using the stage as a soapbox, making amends or just plain old performing and dancing in the audience with his wife.
In 2015, he humorously made it seem like he'd be joining Beck on stage when the alt-rock singer-songwriter won Album of the Year over Beyoncé—and then he really did let loose with what he thought of the Recording Academy's pick in a tirade after the show was over.
And in 2016, he wasn't there but he's who Taylor Swift was talking about in her Album of the Year acceptance speech, when she encouraged her fellow women to not let anyone take credit for their success—as Kanye boasted of having done for Taylor in his now-Grammy-nominated "Famous," off of TLOP.
As for 2017, West already said he'd be boycotting the show if Frank Ocean's 2016 releases Blonde and Endless didn't get nominations—which they didn't, but Ocean actually took himself out of the running by not submitting them for consideration. (Kanye knew that was the case but didn't think it should matter.)
But obviously a Grammys appearance isn't all that's up in the air for Kanye in 2017.
He was seen in public last night for the first time in almost three weeks, having spent eight days last month hospitalized for mental exhaustion.
His behavior on stage had grown increasingly erratic in the days leading up to his hospitalization on Nov. 21, and he had canceled the remainder of his Saint Pablo Tour that morning. His medical emergency occurred almost two months after wife Kim Kardashian was robbed at gunpoint in Paris, a traumatic experience that has prompted her to avoid public events and refrain from posting on social media since.
He was released from the hospital on Nov. 30, and since then the speculation has been in overdrive, somewhat about his health, but mainly about the state of his marriage.
Kim "wants to get Kanye back on his feet. She is not leaving him. She loves him," one source told E! News, while another called divorce rumors, frankly, "bulls–t."
All the while, Kim's still been on the mend, emotionally, from what happened to her in Paris. So, as an insider agreed, she's had a lot on her plate and "being overwhelmed is expected."
Kanye is continuing with outpatient treatment in the meantime and we're told he's working on music—always a calm in the storm for him, even when the music itself creates another storm.
A number of stars from the music world and beyond, including Lady Gaga, tweeted their support for West when he was hospitalized, pointing out that mental health issues are not something to joke about, as some less empathetic souls were doing at the same time.
Of course some claimed they saw this coming, pointing to West's at times outrageous behavior in the past—but Kanye has generally thrived on being unpredictable, carefully burnishing his reputation as a provocateur.
Referring to the loss of his beloved mom, Donda West, between releasing 2007's Graduation and 2008's 808s and Heartbreak, he told The New York Times in 2013 while promoting Yeezus: "Creative output, you know, is just pain. I'm going to be cliché for a minute and say that great art comes from pain.
"But also I'd say a bigger statement than that is: Great art comes from great artists. There's a bunch of people that are hurt that still couldn't have made the album that was super-polarizing and redefined the sound of radio."
That fairly encapsulates what West thinks about his craft and about his place in the pop culture universe overall. He acknowledges that he's hardly the only one who's been able to translate his pain into art—but he also is confident that he does it better than most. Moreover, he has accepted his status as a polarizing artist, revered by many, respected by most, but misunderstood or even reviled by others.
In an interview with GQ in 2014, West agreed with a metaphor comparing him to a fighter who's always in the ring. "I'm sitting right here, it's a fight," he said. "I'm fighting with the way I line up my words together and the way I place a sweater on top of a T-shirt. At this point, people know what's up. People know I'm smart. And people know that, whether it's SNL or Jimmy Kimmel, it's a trend to take the piss out of a celebrity just as much of a trend as wearing a gray hoodie or driving a Prius."
The 39-year-old father of two has also talked openly about the perils of being a true original in a society that is quick to celebrate just about anything other than originality. And through music he has poked and prodded the demons within. In 2013, he said onstage at Brooklyn's Barclays Center during his Yeezus Tour that his dreams kept him up at night.
"God chose me. He made a path for me. I am God's vessel. But my greatest pain in life is that I will never be able to see myself perform live," Kanye said on VH1 Storytellers in 2009.
And yet he's perfectly aware of what that sounds like.
"One of my biggest achilles heels has been my ego," he told an audience at Oxford University last year. "And if I, Kanye West, can remove my ego, I think there's hope for everyone."
And that's a lot of what the music has been for, for continuously playing with the notion of these dueling sides of himself that keep getting in each other's way, even when he's trying to do good. "I Am a God" vs. "Monster," if you will.
A few months before the release of his much-analyzed fifth studio album, My Beautiful Dark Twisted Fantasy, he started posting disturbing imagery and macabre photographs on his website, as well as the video for the Nine Inch Nails song "The Perfect Drug"—a crafty way of getting the public excited to delve further into the mind of Kanye.
Many critics considered it Kanye's best and most revealing album to date, and there was an outcry when it wasn't nominated for Album of the Year at the Grammys, though "All of the Lights" won for Best Rap Song and Best Rap/Song Collaboration.
But despite the big to-do over the heights to which West let his ego fly and the probative depths to which his id sank on My Beautiful Dark Twisted Fantasy in the lyrics of cheerfully self-flagellating tunes like "Runaway" and "Monster," that album was hardly the first time that West had let it be known that he relishes suffering for his art—Yeezus-style. He sees himself as a messenger of a certain truth that must be told—about pop culture, about fame, about human nature itself—and he has volunteered over and over again to be the one to fall on his sword (i.e. take the hits in the court of public opinion) in his quest for justice.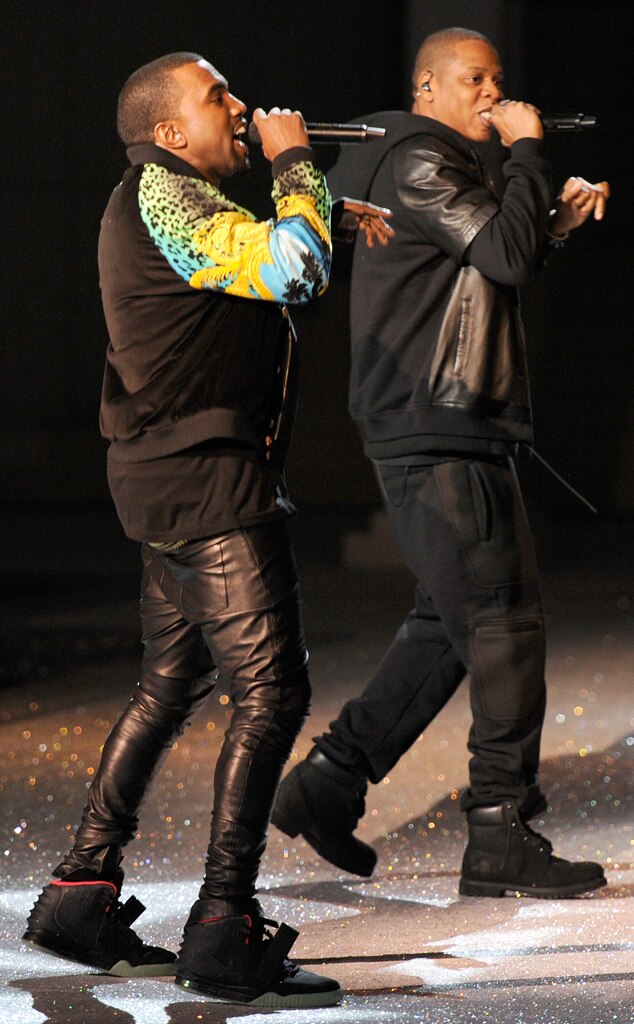 TIMOTHY A. CLARY/AFP/Getty Images
"When I did things like [interrupt Taylor Swift] or the 'George Bush doesn't care about black people' moment, it wasn't a matter of being selfish," Kanye insisted in a cover story he wrote for hip-hop magazine XXL in 2010. "It's more like I was being selfless—that I would risk everything to express what I felt was the truth."
Even when he abruptly yelled "cut" during "All of the Lights" while doing a show at Madison Square Garden, part of his Watch the Throne Tour with Jay Z, he was only doing so in support of the fans who'd made a point of coming to see him.
"Anybody who late on they rent, to buy tickets, or can't buy some s–t they needed, in order to buy tickets. I need to see all of the mother–king lights!" he demanded.
The show then went on, much to the cheering crowd's enjoyment.
"I am so credible and so influential and so relevant that I will change things," West would also insist to the Times in 2013. "So when the next little girl that wants to be, you know, a musician and give up her anonymity and her voice to express her talent and bring something special to the world, and it's time for us to roll out and say, 'Did this person have the biggest thing of the year?'—that thing is more fair because I was there."
He also notably said at the time that My Beautiful Dark Twisted Fantasy was misunderstood. While it came off to those who loved it as a brilliant piece of candor, a tongue-in-cheek yet honest reflection of some of his more narcissistic ways, West said the album was actually his "long, backhanded apology" to his critics after his more sonically experimental 808s & Heartbreak.
"You know how people give a backhanded compliment? It was a backhanded apology. It was like, all these raps, all these sonic acrobatics. I was like: 'Let me show you guys what I can do, and please accept me back. You want to have me on your shelves.'"
His seeming dismissal of all the praise for MBDTF both infuriated and confounded—but Kanye suggested that he's simply his own worst critic.
"I don't want to come off dissing Dark Fantasy. It's me never being satisfied and then me coming and admitting and saying the truth. As much as I can air things out for other people, to air things out for myself, to say, 'I feel like this could've been stronger.'"
Kanye's insistence on pushing the envelope continued with Yeezus and most recently with 2016's The Life of Pablo, the latter of which he debuted during his Yeezy Season 3 show in February for maximum spectacle effect—and promptly triggered a new controversy with his "Famous" lyrics.
His quest for personal vindication continues as well. Ever since he famously decried being ignored by Fendi, saying he came up with the idea for leather jogging pants years before they became a high-fashion staple, it's been apparent that West believes his design ideas have been perennially ignored or misunderstood by those who have the cash and clout to make those ideas come to life, only to have his vision co-opted by those who had ignored him in the first place.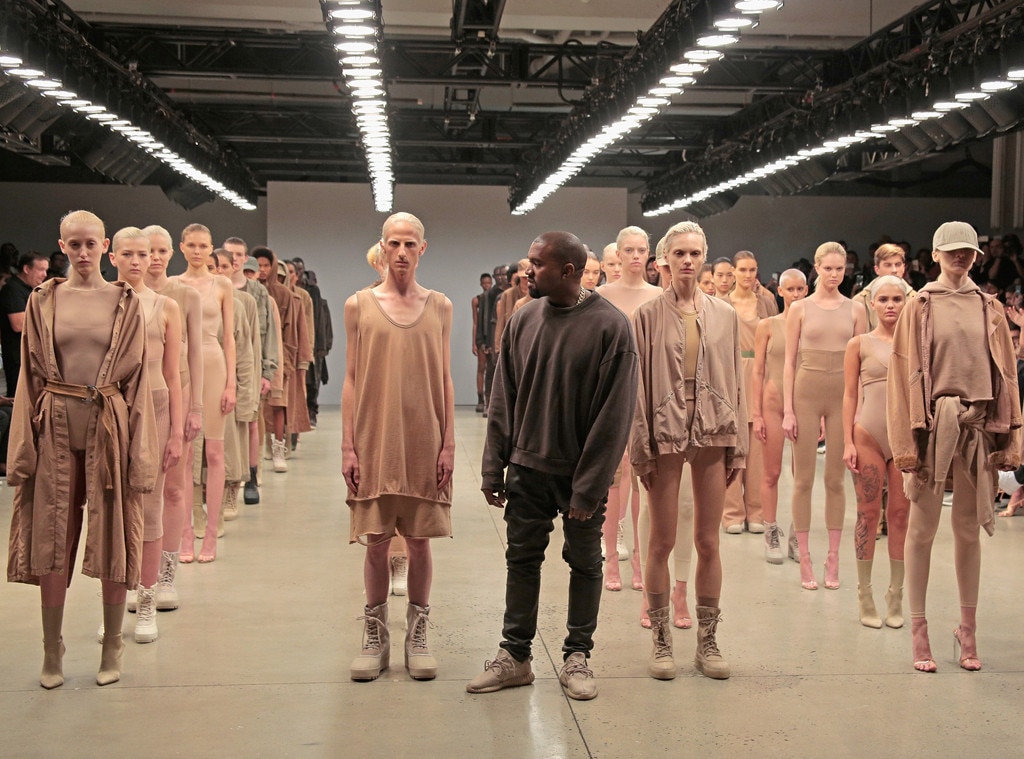 Randy Brooke/Getty Images for Kanye West Yeezy
"If they know that someone is a genius but not business smart, they take advantage of that," he said in an interview for ShowStudios's In Camera series a year ago. "So me constantly fighting that, on the front line, I think is the greatest thing that I've tried to open up so that creatives can be more empowered, because I believe the world can be saved or helped—and the world meaning us as human beings, our civilization, us as a race, as one race—can be helped through allowing people with…more positive motives, and who see more colors than just green, to help be at least a part of the conversation and be heard, and listened to."
Such are the marching orders Kanye has given himself. Nothing less than changing the world for the better will do.
"I don't want to tell you an idea that's so 17 years from now that it will get f–king ridiculed for 16 years, so I'm trying to figure out how to word it in a way that people can understand in the now," West told Surface magazine in an interview published Nov. 20, hours after he had stormed off stage in Sacramento following his surprising rant about Beyoncé and Jay Z and barely a day before he was hospitalized.
"Most people who run publicly traded companies have a tendency to be extremely fearful, especially if they're not the founder, because they have to answer to people. And then they've got a wife and kids or a husband and kids. I think that often people can be scared of brilliant people throughout time—Einstein, Newton, Thomas Jefferson. I've said the successful man is the one who can afford to make the most mistakes.
"Or I'll say something really obvious, like: You have to look past the surface to embrace opportunity."
Then again, he also told W in 2013, "You should only believe about 90 percent of what I say. As a matter of fact, don't even believe anything that I'm saying at all. I could be completely f–king with you, and the world, the entire time."
Of course, it's saying that sort of thing that ensures his fans—and his haters—hang on his every word. And for a man who never stops creating, knowing that an audience is listening ensures that the cycle continues.
"Really good people like me are scared of falling off," he told The Guardian in 2005, a year after the release of his debut, The College Dropout. "I'm totally scared of falling off. Just imagine it. Just imagine if I woke up one day and I was wack. What would I do then?"