This
post
was originally published on
this site
.
Dancing With the Stars' Peta Murgatroyd and Maksim Chmerkovskiy are about to watch their lives change forever…and they can't wait!
The couple are expecting their first child together (a baby boy!), and they're eager for his arrival. A source tells E! News exclusively, that the pair have been counting down the days.
"Peta and Maks are so excited about the arrival of their baby boy, which will be any day now," the insider dished. "Peta is feeling great. She's looking beautiful, as always and has the mom-to-be glow. "
Peta and Maks already have the nursery all set up, and it has a particularly meaningful touch for the daddy-to-be.
"Many years ago Maks purchased a small faux elephant. From that point on, people started giving him all different kinds [of elephants] as gifts," our source told us. "His accidental collection is what inspired the nursery and made it special to both of them. Some of Maks' own elephants even appear throughout the room."
We're told the couple worked closely with celebrity nursery designer Vanessa Antonelli to create a safari-themed room alongside the elephant collection.
"Peta worked with Vanessa to choose the beautiful cream and gold color palette and the safari wallpaper that adorns two walls," the insider revealed. "It was important to Peta to incorporate different textures to add cozy warmth to the space. There is even a tiny mommy and baby koala bear to pay homage to Peta's home!"
The source added, "As they have been receiving gifts from close friends and family, they have been added to the room as the finishing touches. Maks was really excited for the baby's custom crib to arrive from Romania, and he assembled it all on his own. They said their little man's room is now their favorite in the house. Now they just need him to arrive!"
News of the dancing couple's pregnancy made headlines in March, and the pair haven't stopped sharing their excitement for the baby's arrival ever since.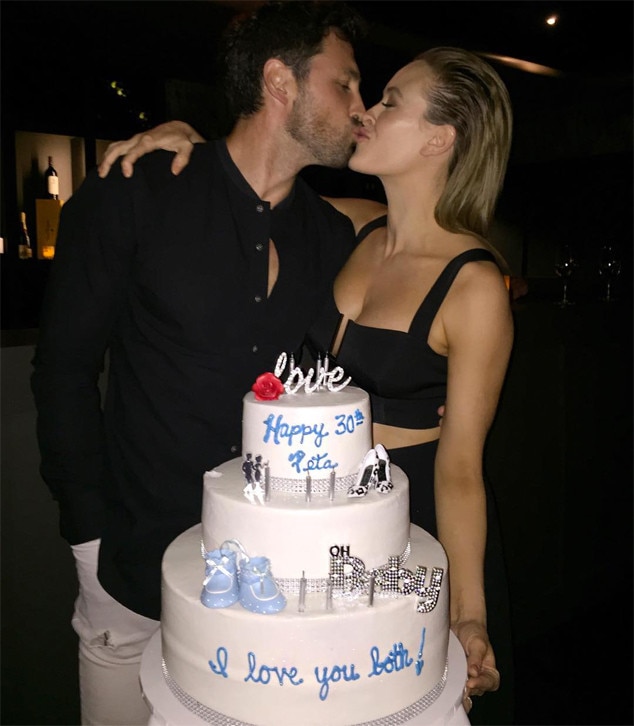 Instagram
Earlier this month, Peta and Maks gathered close friends and family members to celebrate the their baby shower at the McCarren Hotel & Pool in New York City.
The venue was decorated in fitting shades of baby blue and gold, and guests—including Maks' brother Val Chmerkovskiy and his girlfriend, Amber Rose—were treated to a yummy spread of various desserts as well as a photo booth in which they posed for a photo with the happy couple.
Maks took to Instagram afterward to pen a heartfelt message, thanking his loved ones for their continued support. "The love in the room was apparent and all the babies made us feel at ease about bringing a kid into this crazy world," he wrote. "If our children are half as close as we have been through the years, they will have a large family of loyal friends to fall back on!"
He concluded, "That's what it's all about after all…. Don't like the world you live in??? Do better! And it starts with how you raise your children. This is an incredible adventure and I can't say it enough how lucky I am to have a partner like @petamurgatroyd to experience it with! I love you for always."
We can't wait to meet the little guy!