This
post
was originally published on
this site
.
Instagram; Getty Images; Image with child was posted on parent's social media.
Kim Kardashian's year is ending similarly to how it began, strangely enough, in that we aren't seeing very much of her in public.
Of course, the circumstances couldn't be more different.
Her son, Saint West, was born on Dec. 5, 2015, and Kim didn't even show her face on social media for almost two weeks, finally turning her camera on herself while livestreaming on her app on Dec. 17.
So when 2016 began, Saint was barely a month old and a quick trip to the doctor on Jan. 5 was a major photographic event.
Fast-forward 12 months and, with 2016 coming to a close, a trip to dinner with husband Kanye West on Dec. 18 is a major coup for the paparazzi, because Kim has only been spotted in public a few times since Oct. 3.
It was on that morning, Paris time, that everything changed for Kim, her normal day-to-day life and the self-assurance we've come to count on interrupted in a way that has left everyone only able to guess what 2017 will bring.
Because literally up until the moment she was tied up and robbed at gunpoint in her apartment in Paris, the thieves making off with upward of $10 million worth of jewelry, Kim had been having a banner year.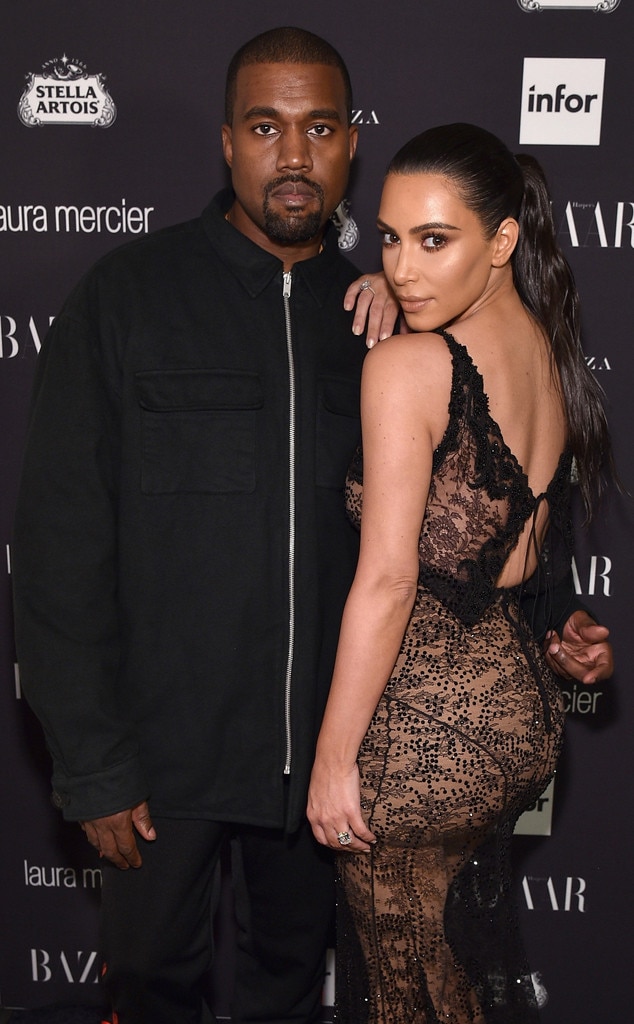 Bryan Bedder/Getty Images
She started in 24/7 family mode, taking care of Saint and North West as always, but also being there for Khloe Kardashian as Khloe dealt with ex Lamar Odom's recovery after his October 2015 overdose. Then Kim was there to help keep the peace when brother Rob Karadshian—in one fell swoop, practically—started dating, proposed to and revealed he was expecting a baby with Kim's pal Blac Chyna.
His mom and sisters were rather taken aback, namely because Chyna is also the ex of Kylie Jenner's off-and-on-again boyfriend Tyga. But Rob had also been very unhappy before he and Chyna started dating, cutting himself off from the public eye and therefore distancing himself from his family.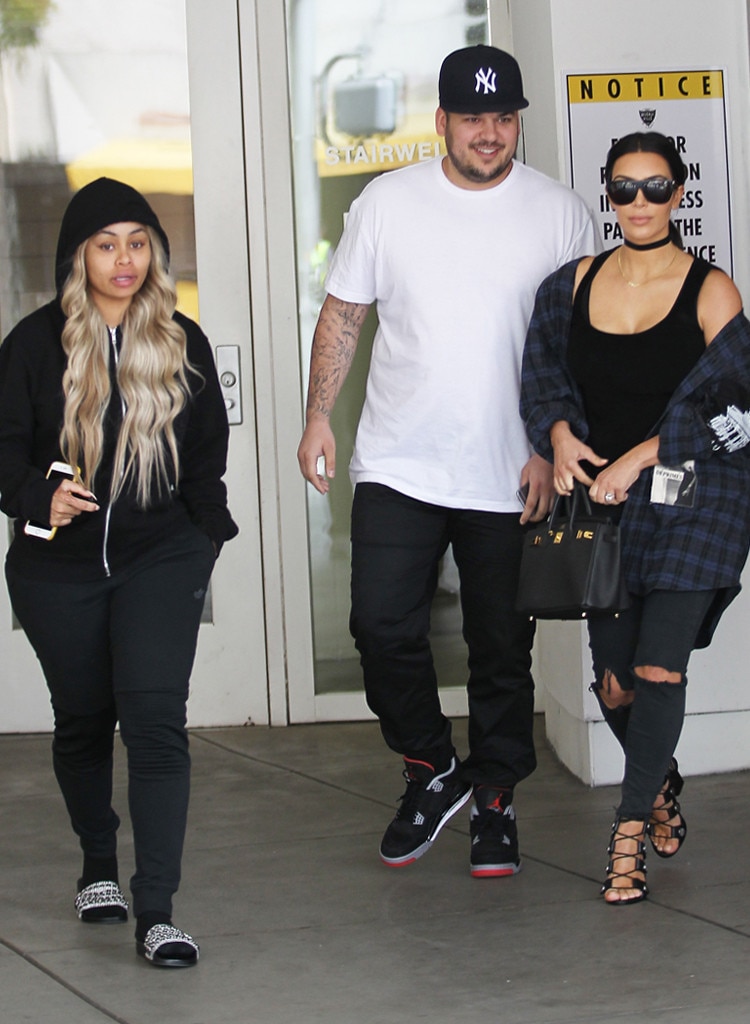 Yellow Mamba/GAMR/FAMEFLYNET
"Even though there's been some drama, if this is what it takes, I don't care who he's dating," Kim observed in a spring episode of Keeping Up With the Kardashians. "I'm just happy he's feeling better about himself."
She masterminded a meeting between Chyna and Kylie, soothed Khloe's feelings when the younger Karadshian sis felt Rob was avoiding her, and made sure that Chyna was included in family outings, even when Rob was a no-show. More recently, Rob and Chyna's issues may be proving too much for his family's usually pretty high tolerance level for screw-ups and makeups, but that isn't because his sisters didn't try to embrace their new normal.
But Kim is almost always the one who helps rebuild the bridge after someone else in her family has tried to burn it down.
Even though Amber Rose, as a show of support for Chyna, had once made a crack about Tyga dating Kylie, Kim still extended the olive branch to her after Kanye started warring with Amber's ex Wiz Khalifa on Twitter— a misunderstanding that turned nasty, quick. Amber later defended Kim when the mother of two got heat for posting a throwback nude selfie—not the first time one of Kim's racy selfies proved controversial (she's got a whole book of them, after all), but the backlash may have reached peak hypocrisy this year.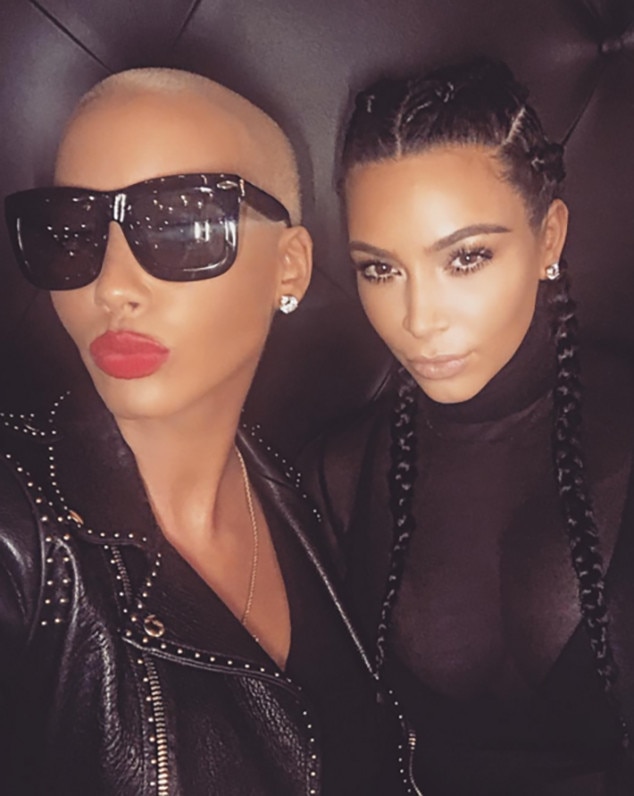 Instagram
"If any sexy guy posted a nude picture with a little black strip over his private areas, everybody would be like, 'Damn, he is hot, he's sexy, look at that body. Oh, he's a dad too?'" Amber said on Nightline. "It's just a double standard."
Speaking of double standards, Kim wasn't having any this year.
Incensed by Taylor Swift 's high-and-mighty reaction to Kanye's "Famous," Kim promised to GQ that proof existed that Taylor was onboard—and then Kim memorably delivered in July when she posted a tape of at least some of that conversation on Snapchat.
"I never publicly talk bad about people. I still don't feel like I have," Kim later told Wonderland. "I'm being honest. I'm a fan. I like her music. There was no shade."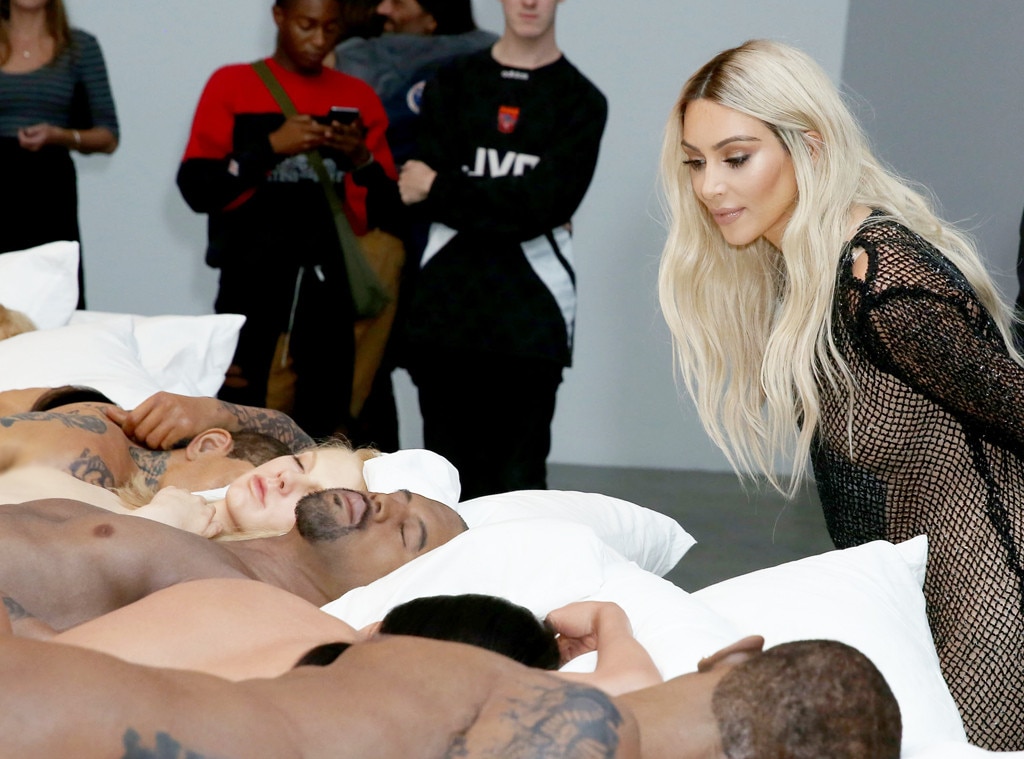 Rachel Murray/Getty Images for Kanye West
And, as she also told Billboard in September, "It wasn't even about a look or anything, or to have this feud—it was like, 'OK, here's the truth.' Done. Let's all move on. I feel like I don't want to talk about her anymore."
Hey, an olive branch can only extend so far.
In addition to being his most stalwart supporter, Kim served as muse to Kanye once again this year, inspiring some of the lyrical twists and turns in his latest album, The Life of Pablo, and being one of the few naked stars portrayed in his "Famous" music video to have actually been in the video. Her lovely lady lumps were also appreciated by Fergie, who cast Kim in her "M.I.L.F. $" video alongside Ciara and Chrissy Teigen.
Throughout, meanwhile, Kim was also occupied with the business of being Kim Kardashian.
Sales of Kimojis have been brisk and proceeds from her mobile game went through the roof, netting the E! star a reported $45 million and the July 26 cover of Forbes.
"Such a tremendous honor to be on the cover of @forbes! I never dreamed this would happen& know my Dad would be proud," Kim tweeted, punctuating her glee with "#NotBadForAGirlWithNoTalent."
Not bad, indeed, but 2016 wasn't the first year Kim spent steadily schooling the rest of the world in her specialized brand of business savvy.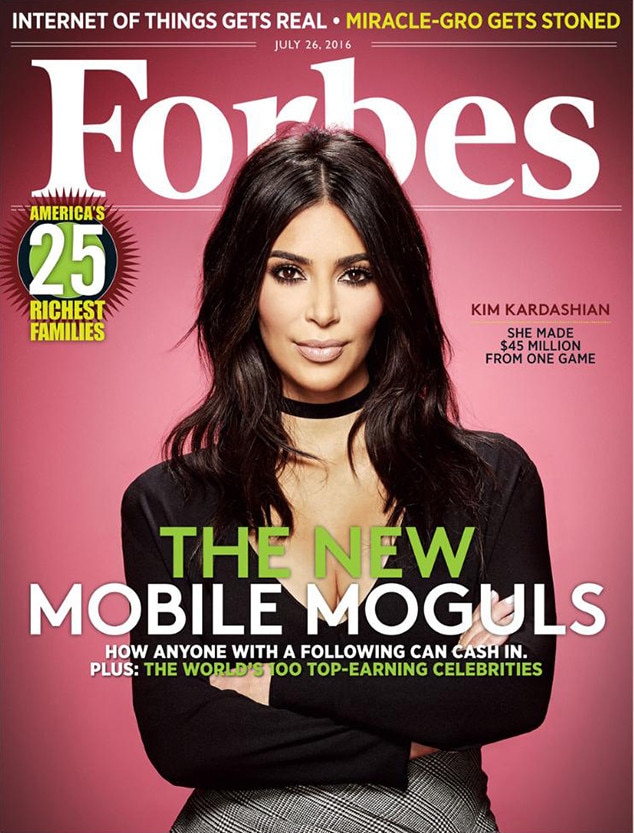 Forbes/Twitter
In addition to Forbes, Kim was also on the cover of GQ, Billboard, Wonderland, Cosmopolitan UK, and Vogue Australia in 2016, plus she was included once again in Love magazine's annual advent calendar. Among her usual jaunts to New York, Las Vegas and wherever Kardashian products are being sold, she traveled to Cuba, Cannes and Mexico, where she generously estimated she took 6,000 selfies.
The spotlight was also on Kim and her family in a different sort of way via FX's The People v. O.J. Simpson: American Crime Story, which starred David Schwimmer as the late Robert Kardashian, one of O.J.'s best friends and an increasingly uncertain member of the "Juice's" infamous "Dream Team" of defense attorneys.
While most of the onscreen bits featuring a young Kim, Khloe, Kourtney and Rob were pure fiction, the Emmy-winning series' Kardashian storyline was one of its most talked-about aspects.
"There were times I was watching it and I was like, 'Oh shit, this is dead-on' …Like, 'That looks like my dad. It feels like my dad.' It was eerie to watch sometimes," Kim told GQ (and also revealed she looked through O.J.'s bag—and there was nothing in it but clothes and toiletries).
Used to being on camera and subsequently seeing herself on camera—both through her own lens and others'—seeing herself portrayed, even fictitiously and as a child, was something new.
It was also this year, when social media went off the rails in the political world and more than ever it was a forum for negativity, that Kim was asked more often about her approach to juggling her public and private worlds—and even if they're one and the same, what does she envision for her children?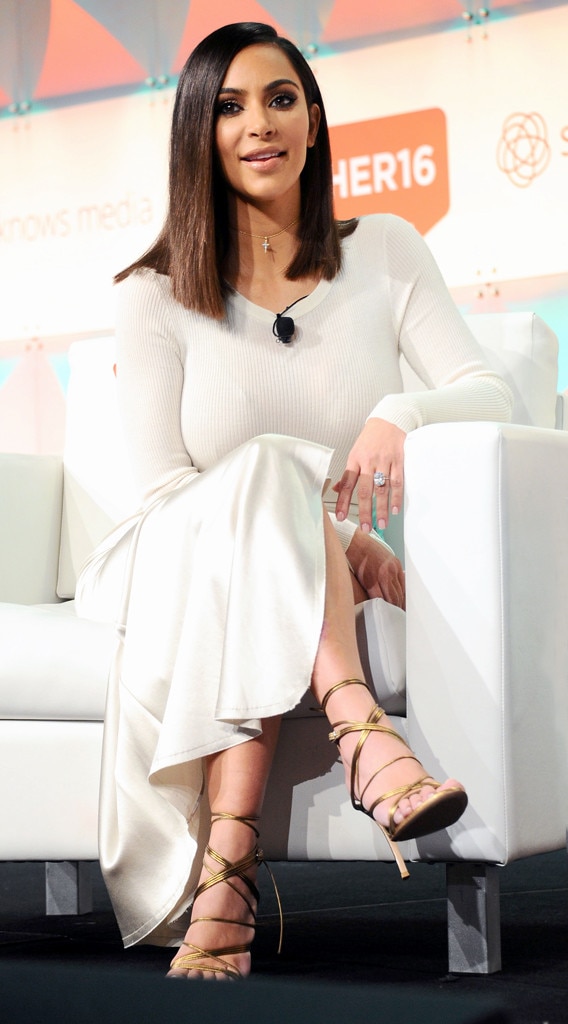 Sara De Boer/startraksphoto.com
"Both times when I was pregnant I'd literally just pray, 'I hope my baby can handle this life,'" she recalled to Billboard. "I believe their souls choose us to be their parents—that they choose this life. That's my belief."
Yet at the same time, Kim understood that she herself is quite unusual when it comes to being able to pull off what she does.
"I used to care about all of the comments," she admitted at the BlogHer16 conference in Los Angeles in August. "I think as you get older you just mature…. I have my family. I have my kids. I don't need to sit at home and I don't really have the extra time to look at comments. I know that the hate is out there. When I post something, whether it's a nude selfie or something, I don't post it just to get a reaction. I post it because I like the photo. It could be really something simple, so I'm not really looking at what the comments are."
Her kids are another story, however.
"I definitely am really protective of my life with the kids," Kim also said. "You might see them on [KUWTK] a little bit, but not real stories about them… We just don't make stories—Kourtney and I don't makes stories really around our children. They'll be there but if anything that's a benefit because we get to spend more time with them."
Snapchat really took off, though, in 2016—and of course Kim and her family helped lead the charge. Daughter North West also became one of the medium's biggest stars, the toddler seeming to care for it at first but then realizing that, OMG, you get to be a flower-crown-wearing princess, or a puppy, or you can trade faces with your mom!
But no one is lucky all of the time.
Despite all of the blissful momentum that seemed to be propelling Kim toward yet another jolly holiday season and a happy new year, what happened in Paris put the brakes on life as she had known it for the last decade.
Except for the moment she was heading to the airport in New York to fly back to L.A. a day after her terrifying experience, up until this week we'd only seen glimpses of Kim from afar, snippets of her driving or grabbing a quick frozen yogurt.
And that's why it seems like much longer than two and a half months since Kim was robbed. It's been two and a half months without a new tweet, Instagram post or Snapchat. We heard her voice on a friend's Snapchat video the other day, but otherwise…
That's a lot of time in Kim years to be off of social media, which helps fuel the Kardashian empire and has seemingly bent to their will as if they've been using the Force all along.
Then again, Kim had been planning to make her first public appearance at the Angel Ball in New York, where the late Robert Kardashian was being honored. But just hours beforehand, Kanye—suffering from severe exhaustion—was hospitalized in L.A. and Kim jetted right back home.
Kanye spent eight days in the hospital before he was discharged, in time to be with the family for Saint's first birthday. But now his next step too is up in the air, though a trip to see Donald Trump at Trump Tower in Manhattan was proof that Kanye isn't any less interested in attention or provoking a reaction from people than he was a month ago.
As her mom Kris Jenner has said, Kim's recovery from her traumatic experience in October has been "a process," one that her family has acknowledged wouldn't come overnight.
And now, being photographed with Kanye on a dinner date isn't just part of Kim's reemergence onto the scene after her long absence. It's proof that they're still together—a quiet rebuke to rumors that their marriage is on the rocks.
So Kim has to be strong, once again, for more than just herself—a role she knows well. Sources have said she and Kanye looked very sweet when they were finally back at home together last week.
"They are going through a lot but from what it seems like, they are doing it together and getting through it," an insider said. "It's been a very rough year for her."
True story. Even if her year had been perfect beforehand, and we know there's no such thing, the robbery sent her spirits plummeting. While all of the wonderful things in her life that came before may have cushioned the blow, we still don't yet exactly know the full extent of the impact.
This year took its toll on a lot of people, and 2016 has famously been derided like no other in recent memory as being one for the bin, rather than the books—so Kim is hardly the only one if she too is counting down the hours until 2016 is finally over.