This
post
was originally published on
this site
.
Last year, the Critics' Choice Awards did something unprecedented.
Other than host T.J. Miller doing his monologue flanked by a troupe of puppets, that is.
What happened that was new, actually, was the ceremony expanded to combine film and TV for the first time, the Critics' Choice Movie Awards swallowing the four-year-old Critics' Choice Television Awards, to become once again just the Critics' Choice Awards (which is probably what most of us had continued to call the Critics' Choice Movie Awards anyway).
Not that doing so makes the show that special. The Screen Actors Guild Awards encompass both, as do the Golden Globes (not to mention all that People's, Teen and Kids' Choice business).
But what the critics in question—the CCAs are voted on by the Broadcast Film Critics Association and the 4-year-old Broadcast Television Journalists Association— do seem to be angling for is a higher profile in the increasingly crowded space on the calendar known as Award Season.
The Gotham Independent Film Awards, which this year took place on Nov. 28, has generally served as the official kickoff of awards season—even though most of the movies and actors being honored haven't been in wide-release yet (or may never be). And they're kinda casual. Which is why the Gothams are still considered more of an insider-y event rather than a glamorous treat for non-entertainment people to get excited about.
Alberto E. Rodriguez/Getty Images
But in Los Angeles, where most of award season unfolds, now the Hollywood Film Awards—which took place Nov. 8—are angling for a spot at the importance table by claiming they're the start of award season—though as host James Corden joked this year, whoever shows up at the HFAs and doesn't win something needs to fire his or her publicist.
Yet trashing the award show that one is hosting is a venerable tradition, one that Ricky Gervais may have abused the last (emphasis on last) time he hosted the Golden Globes, but still, all in good fun.
Speaking of which, the nominations for the 2017 Golden Globe Awards will be announced Monday—a day after the 22nd Annual Critics' Choice Awards are held at Santa Monica Airport's Barkar Hangar. This will not only be the first time the CCAs are being handed out in December, almost a month before their traditional perch after the Globes in January, but in recent years the Critics' Choice nominations weren't even usually announced until at least Dec. 14 or 15.
So while the doling out of the Critics' Choice Awards will be too late to influence Golden Globe nominations, they could influence the winners (in TV as well as film)—as well as hold even further sway over Oscar nominations.
In fact, though the Globes' pick for Best Motion Picture, Drama, has frequently served as a preview for which film is going to triumph on Oscar night, the Critics' Choice Award winner for Best Picture has actually been a more reliable harbinger of the Best Picture Oscar winner in recent years—and the CCAs may have a leg up on the Globes once again for a very particular reason.
But first, the CCAs are batting a thousand at least as far as crowning a Best Picture that went on to be nominated for the Best Picture Oscar (there are only so many plot twists to be had during award season). And those respective awards have matched up 13 out of 21 times, or a healthy 62 percent, including the last eight out of 10 years.
Birdman swooped in and won the Oscar over seasonal darling (and Critics' Choice pick) Boyhood in 2015, and The King's Speech snatched the Oscar momentum from The Social Network at the last second in 2011, but otherwise the Critics are on quite a run.
So of course the Golden Globes have 44 more years of history going for it, but in the last 21 years, the Best Motion Picture, Drama, winner has only matched up with the Best Picture Oscar nine times—including a whiff last year when the Hollywood Foreign Press went with The Revenant instead of eventual Oscar winner Spotlight.
Which was indeed first named Best Picture at the Critics' Choice Awards.
And while it's still early, this coming year may be another miss for the Globes, at least partially. The most buzzed-about film, as far as rave reviews, audience response and pedigree combined, has to be Damien Chazelle's La La Land, starring Emma Stone and Ryan Goslingas an aspiring actress and a struggling jazz pianist who meet cute in L.A. but inevitably hit a few road blocks on their way to happily ever after.
It's of course up for Best Picture at the Critics' Choice Awards Sunday, and it's going to get a host of Globe nominations, followed by Oscar nominations—which will be announced Jan. 24. That's weeks after the Globes on Jan. 8, meaning the Globes could still affect Oscar nominations for a change. For 2016, the Academy announced nominations Jan. 14, two days after the Globes. For 2017, voting for Oscar nominations doesn't even close until Jan. 13.
Which gives Academy voters five days after the Globes air to binge screeners and think.
Regardless of whether La La Land hype pans out in the long run and, like The Artist in 2012, becomes one of the few feel-good Best Picture Oscar winners in recent years—it's a musical. Not a really-a-drama comedy, like Birdman or The Grand Budapest Hotel, but a full-on, people-burst-into-song musical.
As such, it will be nominated for the Best Picture, Musical or Comedy, Golden Globe. And it will win (huge upset if it doesn't), but that could further distance the Globes from being a veritable rehearsal dinner for Oscar night.
However, the drama Moonlight—which is nominated for six Independent Spirit Awards and was just named Best Film over runner-up La La Land by the Los Angeles Film Critics Association, which also picked Barry Jenkins for Best Director—is gaining steam. And it could win the Critics' Choice prize, and then the Globe…and then the Academy could pull a Shakespeare in Love-type maneuver and go with La La Land for the Oscar over a heavier choice.
The CCAs still have a long way to go to be as noticeable as the Globes, though generating more buzz (you're welcome) is half the battle.
They've reenlisted T.J. Miller for hosting duties, the Silicon Valley star having been very well-received last year (or earlier this year—the CCAs are technically being held twice in 2016, so now we must go with their designated numeral to avoid wretched confusion) so they're obviously working on creating a signature vibe.
And they finally aired on Sunday last time, and will so again, as nature intended, after years of taking place on weekdays—when, you know, you want to watch a repeat of the Golden Globes instead of Project Runway.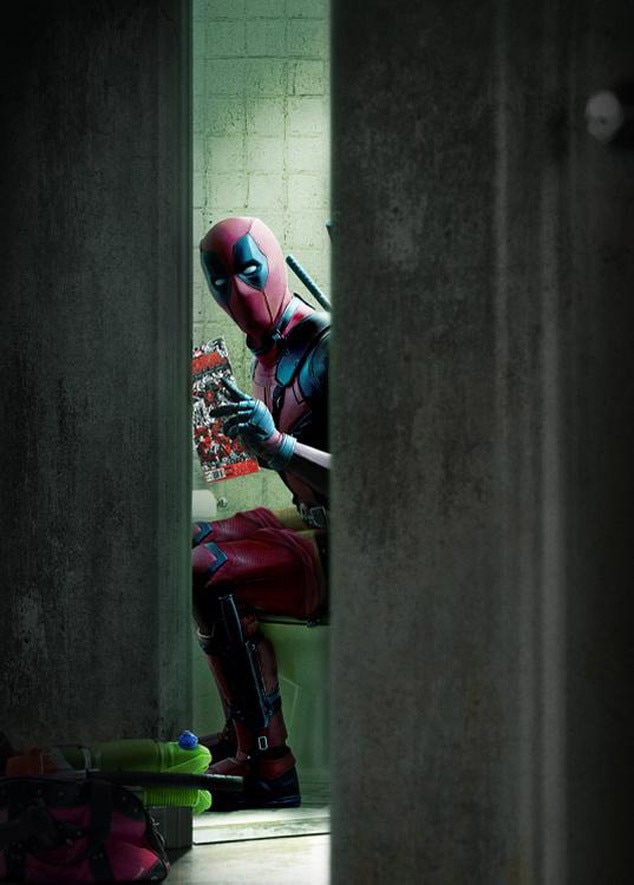 Twitter
Moreover, the CCAs also famously honors genre films as well, so blockbusters like Doctor Strange, Deadpool and Caption America: Civil War are nominated in sci-fi/horror, comedy and action categories—which doesn't do much for the ceremony in the prestige department, but who doesn't want to at least tune in for the possibility of Ryan Gosling and Ryan Reynolds in the same room?
And by combining all of that with the TV crowd, from which the likes of The Walking Dead's Jeffrey Dean Morganand all the major players from The People v. O.J. Simpson: American Crime Story are nominated…
This is starting to sound like must-see TV. Or at least must-see cable TV, since the Critics' Choice Awards are on A&E.
The Golden Globes, being hosted by Jimmy Fallon and airing on NBC, will certainly be the more talked-about, higher rated show for the foreseeable future. But the Critics' Choice Awards are apparently done living in the Globes' shadow.
T.J., cue the puppets. The 22nd Annual Critics Choice Awards airs live Sunday, Dec. 11, at 8 p.m. ET on A&E.
(E! News is a member of the NBCUniversal family.)