This
post
was originally published on
this site
.
Harrison Ford is speaking out after Carrie Fisher's death at age 60.
In a statement to E! News, the 74-year-old actor said Tuesday, "Carrie was one-of-a-kind…brilliant, original. Funny and emotionally fearless. She lived her life, bravely." As he grieves the loss of his co-star, Harrison said his thoughts are with her daughter Billie Lourd, her mother Debbie Reynolds, her brother Todd Fisher and "her many friends. We will all miss her."
Alex J. Berliner/ABImages via AP Images
George Lucas, who cast Carrie as Princess Leia in Star Wars: A New Hope, also shared his memories with E! News. "Carrie and I have been friends most of our adult lives. She was extremely smart; a talented actress, writer and comedienne with a very colorful personality that everyone loved," he said in a statement. "In Star Wars she was our great and powerful princess—feisty, wise and full of hope in a role that was more difficult than most people might think. My heart and prayers are with Billie, Debbie and all Carrie's family, friends and fans."
The 72-year-old director added, "She will be missed by all."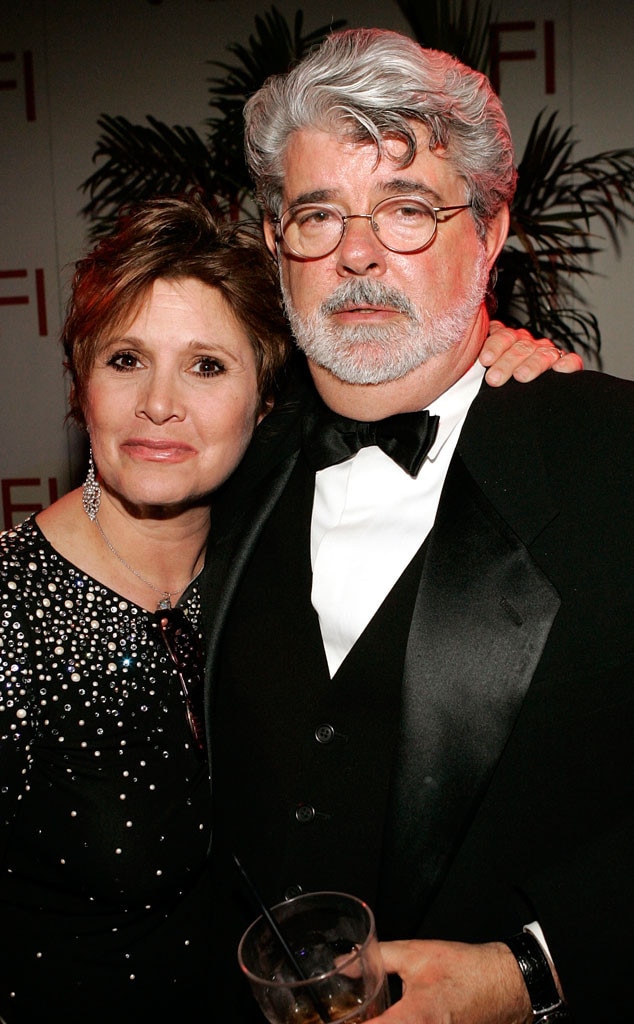 Vince Bucci/Getty Images
Other members of the Star Wars family—including Anthony Daniels, Mark Hamill, Peter Mayhew, Lupita Nyong'o and Andy Serkis—shared their memories of Fisher via social media.
Kathleen Kennedy, President of Lucasfilm, paid tribute to the actress earlier Tuesday. "Carrie holds such special place in the hearts of everyone at Lucasfilm it is difficult to think of a world without her. She was Princess Leia to the world but a very special friend to all of us. She had an indomitable spirit, incredible wit, and a loving heart. Carrie also defined the female hero of our age over a generation ago," Kennedy said. "Her groundbreaking role as Princess Leia served as an inspiration of power and confidence for young girls everywhere. We will miss her dearly."
Fisher died on Tuesday after suffering a cardiac arrest on board of a flight from London to Los Angeles on Dec. 23. She was taken to UCLA Medical Center for emergency treatment. Speaking on behalf of Fisher's daughter, publicist Simon Halls told E! News, "She was loved by the world and she will be missed profoundly. Our entire family thanks you for your thoughts and prayers."