This
post
was originally published on
this site
.
Fifth Harmony will neither be the first nor the last girl group to have a member leave in the height of popularity.
The pop group announced Sunday that Camila Cabello had decided to leave the group, but the rest of the band would continue on its tour. In hindsight, signs of Camila's departure had been made clear for a while, but Harmonizers didn't expect her to leave mid-tour; however, other girl groups such as Destiny's Child, Spice Girls and more have experienced the same type of sudden exit.
Over the course of the band's career, Destiny's Child lost three members: Farrah Franklin, LeToya Luckett and LaTavia Roberson. Franklin joined the Beyoncé-led group after Luckett and Roberson departed. Both singers sued Mathew Knowles, alleging he misappropriated funds.
They also sued Destiny's Child over "Survivor," claiming certain lines of lyrics dissed them. Luckett and Roberson settled with Destiny's Child outside of court. Franklin, who was hired as a replacement, was fired from the group for not handling the grueling schedule.
"The bottom line is that Farrah didn't show up for work," the group's manager, Mathew Knowles, said in 2000. "I don't care where you work, whether it's a production line or whatever, if you don't show up, you're going to get fired."
In a statement issued by Columbia Records, Beyoncé said, "We're sorry that Farrah won't be with us for the long run, but we wish her the best in the future. It wasn't a management decision, it was a group decision."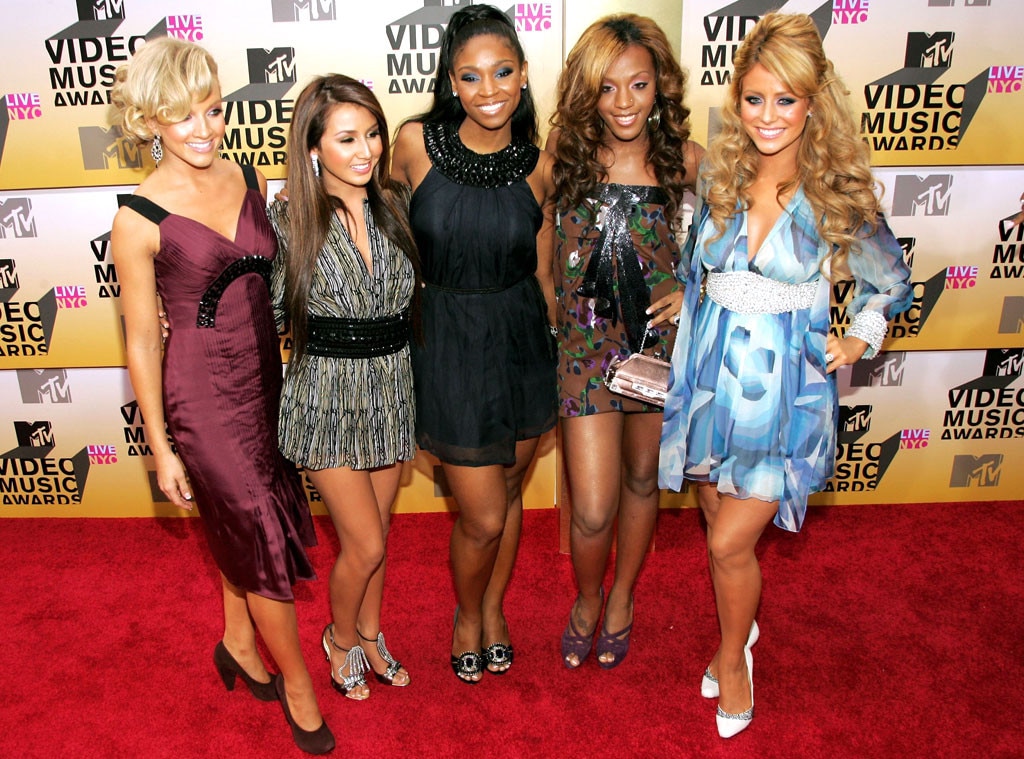 Bryan Bedder/Getty Images
Geri Halliwell decided to leave the Spice Girls in 1998 months before she was originally scheduled to leave when she was told she wasn't allowed to do interviews for breast cancer awareness. "I just got very angry, really emotional about it," she said in an interview. "It was something very close to my heart and it made me question my priorities."
Danity Kane's second split was far more dramatic than some of the other splits that preceded and followed it. The group called it quits after Dawn Richards punched Aubrey O'Day in the music studio. "During a recent group meeting, a business conversation took a turn for the worst when my group member punched me in the back of my head while I was speaking to another associate," Aubrey wrote, without specifying who allegedly struck her, in a statement.
"To be clear, she was not physically engaged or threatened prior to her attack on me. This is the same information I provided to the police, and witnesses also corroborated this account of the incident. I cannot condone or excuse any form of physical violence, particularly at the hands of someone I considered family. Disagreements happen. But a war of words and ideas should never end in physical aggression."
The British girl group All Saints never got along while working together, but after breaking up they became best friends. They've all been candid about the group's break up, the catalyst of which was a jacket to be worn during a photo shoot. Band member Shaznay Lewis said the jacket was the straw that broke the camel's back.
"I would never in a million years have put money on the group ending over a jacket incident. But when that incident happened, it fired up so strong, it had to be over," she said after the band broke up. "And the way I was then, the state we'd got into then, there was no way she was getting that stupid jacket."
Girls Aloud's split was thought to be a mutual decision, but when Nadine Coyle tweeted she had nothing to do with it, the band was further strained. "You should know by now I had no part in any of this split business," she tweeted. "I couldn't stop them. I had the best time & want to keep going. Xxxx."
Keisha Buchanan also used Twitter to announce that she was leaving Sugababes, but she made it clear it was not her decision. She later admitted that she was forced out of the group because she continuously bullied Heidi Range.