This
post
was originally published on
this site
.
Rob Kardashian and Blac Chyna seemed to be living in baby bliss ever since Dream Kardashian was born, but this weekend it became clear that not everything was rainbows and roses.
After Chyna's Instagram account was hacked allegedly Saturday, tensions came to a head and all was aired on social media. Alleged conversations between Chyna and her lawyer, Jaden Smith and rapper Young Thug revealed Chyna's thoughts about her fiancé, which didn't reflect well on her. In one text message, Chyna allegedly called Rob "lazy," "fat" and "insecure."
"Imma give Rob 1 year to get it together. Or I'm gone," she allegedly wrote.
Shortly afterwards, Chyna launched a new Instagram page where she posted a video claiming the hack was done by someone who was "really, really, really, really mad." It appeared, however, that Rob wasn't buying any of it, as he took to his Instagram and Snapchat profiles to air his grievances about Chyna taking Dream and emptying out their house, including King Cairo's room.
"Sorry to be so open but I'm not feeling so good after seeing @blacchyna messages about me and what her plans were. I have never been this heartbroken in my life," Rob wrote on Instagram.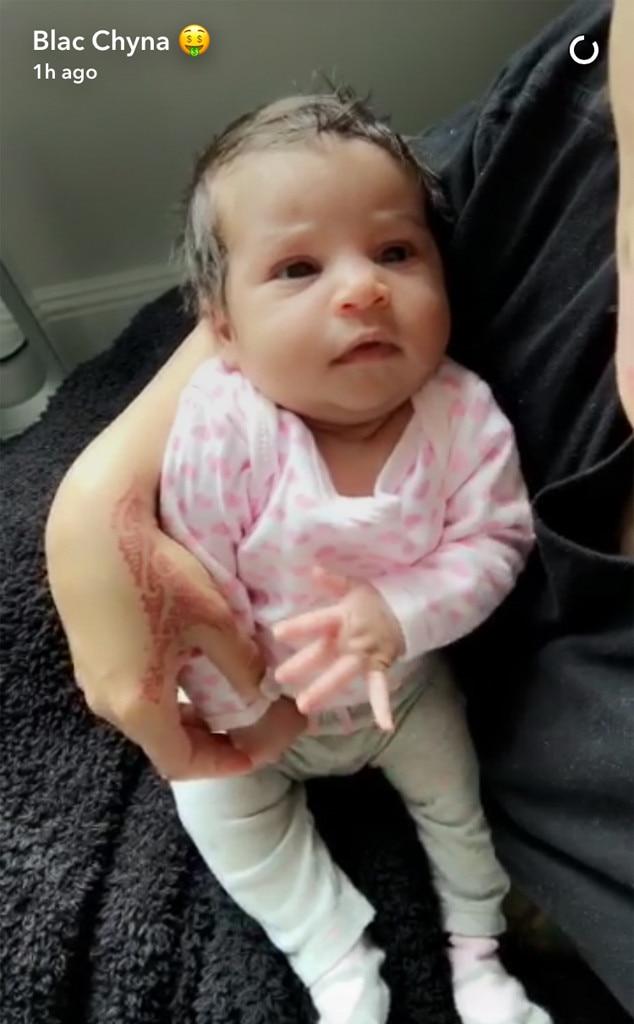 Snapchat / Blac Chyna
"I don't mind being so open or if anyone thinks I'm being weak but I don't play when it comes to Family and Chyna was my Family and thought we were getting married. I treated her as a Queen. My baby girl is 1 month old and Chyna took her and left this beautiful home that I just bought for us. Right before Christmas. Someone I have given my all too.
"I Loved every inch of that woman and loved everything that came with her," he added. "I truly loved Angela. I gave everything I owned for her. Didn't know I was just part of her plan. I really believed she was in love with me the way that I was with her and I am so hurt and never felt this before."
Come Sunday, Rob had to defend his heartache by telling fans the back-and-forth between he and Chyna was not a publicity stunt. "Chyna knew exactly what she was doing to get me. I can't believe she did this to me," Rob wrote on Instagram, alongside a clip of one of his Snapchat videos. "And this isn't for some ratings this is my real life so please understand I'm just being open right now. Cuz if it was for ratings I wouldn't explain all this here. And with Chyna's messages and her leaving with everything and the baby I am broken."
He also posted fan-created memes, including one comparing his situation to Kevin's in Home Alone and Will Smith's character's in an episode of The Fresh Prince of Bel-Air.
"People are tagging me in these memes and just cuz I'm posting them doesn't mean this wasnt all serious (sic)," Rob wrote on Instagram. "This is all very real and serious to me and I'm trying to cheer myself up with these and they are making me laugh. So relax. This wasn't fake or some publicity stunt. Trust me."
Chyna's mom, Tokyo Toni, said otherwise Monday morning. The E! star's mom took to Instagram to say the couple would be OK. "At the end of the day they will still be together I promise you," she wrote. "Rob just have to get Mr. Insecure off his back! Everything will be fine."
Toni also called Rob "emotionally disturbed" and claimed he searches Chyna's phone "all the time."
"He's a very emotional guy with many many personal issues," she added, later noting, "I love Rob and I am going to try to help them manage their relationship through love and wise word."