This
post
was originally published on
this site
.
Blac Chyna is back to hitting the red carpet.
Two months after giving birth to her first daughter, Dream Kardashian, the reality star officially stepped into the limelight while making her first public appearance at the 1 OAK Nightclub at The Mirage Hotel & Casino in Las Vegas Saturday night.
"I feel confident," the new mother of two told E! News before stepping inside. "I've been trying to get my body back and focusing on the baby. She's healthy. I'm healthy. That's just my main focus."
Chyna's confidence certainly showed! The star stunned in a champagne sequin curve-hugging cocktail dress with a plunging neckline with her blond hair pulled back away from her face.
In addition to hikes and "slowing down" her pregnancy food cravings, the star also noted she has her own secret "remedies" for shedding the baby weight.
"It's super hard," Chyna said. "I had actually had a C-section, so with breastfeeding and drinking water and my teas and my other little remedies…it's been working out for me really good."
Though she's now busy juggling two little ones while resuming her everyday duties, Chyna feels ready to handle it all. "I feel like it comes natural," she said. "I feel like being pregnant obviously prepares you to be able to juggle everything."
"Dream is like a really good, easy baby, so it's really easy for me," she added.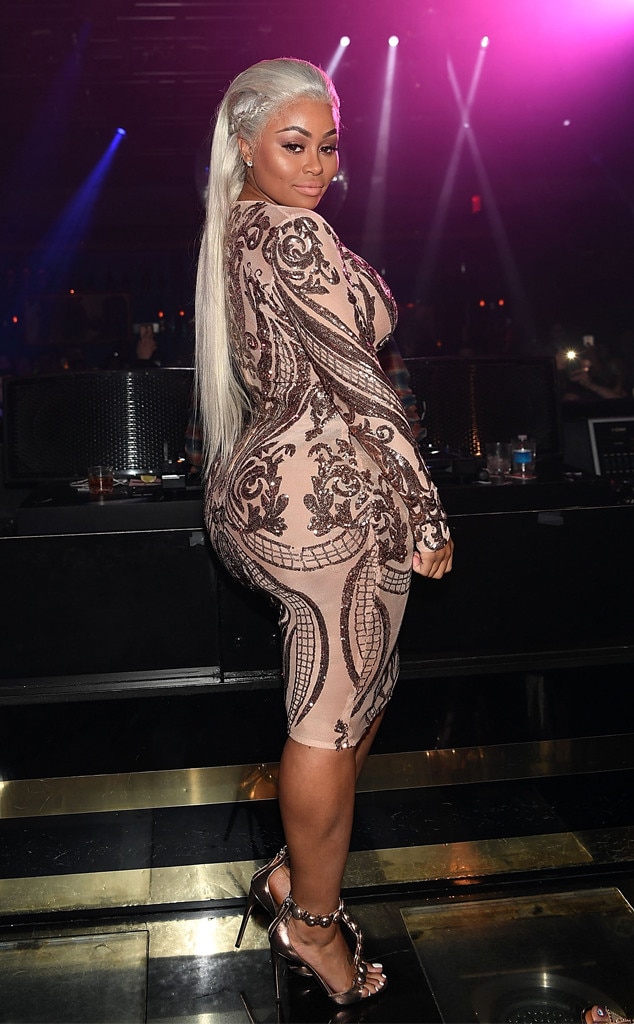 Denise Truscello/WireImage
Inside the club, the reality star was seen smiling and dancing on a platform by herself and with her gal pals, including Paige Morrison. At one point in the night, cocktail waitresses presented Chyna with giant cardboard cutouts of fiancée Rob Kardashian and Dream's faces.
According to sources, Chyna was also seen FaceTiming her beau, who was at home watching their daughter.
While Chyna was excited for a night out with the girls, she wasn't planning on staying for too long.
"I don't think it's going to be a late night because I have to go back home to my baby tomorrow," she told E! News. "I'm going to have a little bit of fun—you have to!"