This
post
was originally published on
this site
.
I've spent the last 24 hours talking, texting and emailing with other guys around Hollywood who, like me, had the pleasure of knowing and playing hockey with Alan Thicke. We are all still reeling from his death at age 69.
While I didn't know Alan as well as many of the Hollywood industry hockey players with whom I often play in charity games, Alan was so damn personable and genuine, you felt like you were his best friend.
I connected earlier today with one of Alan's longtime hockey buddies, Cuba Gooding Jr., who summed up a lot of our feelings very poetically—that Alan, best known as Jason Seaver on Growing Pains, was more than just a TV dad. His paternal quality extended into real life.
"Alan was the on-ice father figure to us all," Cuba shared. "It is said that the way you play the game tells us how you are as a man in life. Alan played the game of hockey with honor and a joy that was always present in his smile. I will love and miss him for the rest of my days."
Arthur Mola/Invision for The Hollywood Reporter/AP Images
I remember playing alongside Alan in Park City, Utah, at a charity game hosted by NHL legend Luc Robitaille, sharing the temporary ice on the field at Dodgers Stadium prior to an NHL outdoor game, playing pickup at local L.A. rinks—away from the TV cameras, away from fans. I can assure you that Alan, who grew up in Canada, truly was in his element around an ice rink, which makes it bittersweet that he died after playing the game he loved so much.
Years ago, I remember Alan taking a puck to the face and he lost some teeth and also took dozens of stitches in his mouth. Ironically, the incident took place at the same rink in Burbank where he suffered his fatal heart attack.
Alan took some time off, but he soon returned to the ice, only this time with a full face mask that he wore every time after that incident.
Shortly after he began wearing the new mask, I was in the locker room with him when he was telling the guys his story and complaining that he had to wear that cage on his face. "But I guess I gotta protect the money-maker," he joked with that trademark smile.
Sports agent Brant Feldman is part of the fraternity of Hollywood guys who played with Alan. Brant has this take on why Alan so enjoyed playing the sport: "Actors need to get away. You have lights and cameras and scripts and fans at work, but when you are on the ice it is just you, the ice and the puck. He loved acting, but his love for hockey was in my opinion much deeper because it connected him to his childhood in Canada."
Alan was a cool guy. He was a charmer. And Alan's wit and charisma was with him on his last day.
Actor Mark DeCarlo was playing with Alan on Tuesday morning during the pickup game in Burbank.
In the musty locker room prior to the skate, Mark tells me that Alan sat next to his 19-year-old son Carter and was "just being Alan," adding, "Alan had what looked like a new New York Rangers jersey with his name on the back. He was joking around and looked good to me. He had driven down from his place in Santa Barbara just to play. We talked briefly while getting dressed. He didn't look pale or ill or sickly. He looked great."
Just a few minutes later on the ice, during the start of the pickup game, Alan suddenly bent over in pain.
"Someone flipped him the puck, but he didn't really go for it," Mark remembers. "He looked like he was struggling. He was hunched over and in pain and moaning and making noises. We got him to the bench. I thought he had been hit by a puck or something and we didn't see it. One of the skaters is a retired fireman and checked his pulse and got him comfortable and got his skates off. He never lost consciousness and was talking, saying he was nauseous and didn't feel good."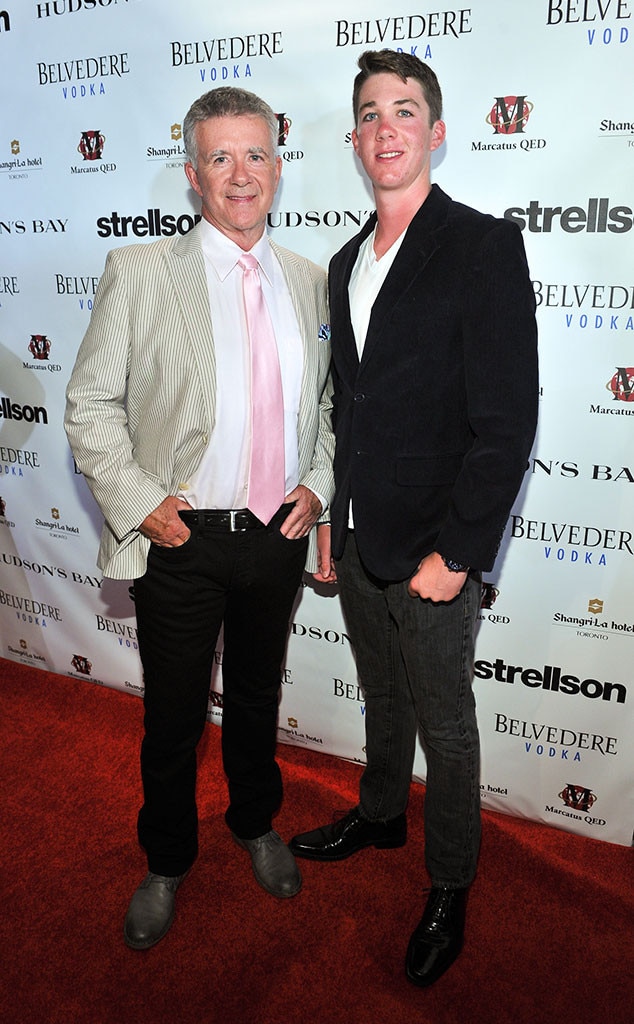 George Pimentel/WireImage
After the paramedics put him on the stretcher and began wheeling him out of the rink to an ambulance, Mark recalls, "He made a joke to his son, saying, 'Get a picture of me while I am on the gurney.'"
Anyone who spent time around Alan could attest that he was never shy about cracking a joke—about anything, anyone, at any time.
As a father of two, with kids who also play hockey, I connected with Alan on that level. His love of being a dad was very real—and inspiring. Alan once said, "I look at my kids or spend some time with them and see what they accomplish and, generally, I feel I must have done some of it right because I'm madly in love with all of them. I think all three of my boys are quite fabulous."
And so was Alan.
He was way too young and spry to die; but, as strangely as some people might interpret this, as a fellow dad and hockey lover I'm glad that at least he got to spend his last day of life with his son doing what he loved so much.