This
post
was originally published on
this site
.
Frazer Harrison/Getty Images for The Hollywood Reporter
Tina Fey is always talking about her gal-pals and how much influence and meaning they have in her life, but there's a certain man (other than her hubby) who's also defined friendship goals with the comedienne: Jon Hamm.
The pair first became acquainted when then actor was chosen to play Liz Lemon (Fey)'s love interest on 30 Rock. However, in real life, they hit it off as friends, constantly making fun of one another but always making sure to commend each other's successes, too.
In fact, at The Hollywood Reporter's Women in Entertainment breakfast on Wednesday, Hamm presented Fey with the Sherry Lansing Leadership Award, recognizing female pioneers and leaders in her industry, and her speech further proved just what great (and hilarious) friends they are.
Check out eight times this pair defined #FriendshipGoals below:
She's Just Not Into Him: While accepting the Sherry Lansing Award from Hamm, Fey couldn't help but laugh over a moment in which the actor caught her admitting she didn't think he was all that hot.
"Showing up to an event like this, Jon is literally putting himself in danger," she said of the all-women's breakfast. Then she recalled, "Jon and I hadn't known each other long in 2009 when he kindly agreed to come to Washington D.C. to help present me the Mark Twain Prize for American Humor…My whole family was there. It was as a very special night."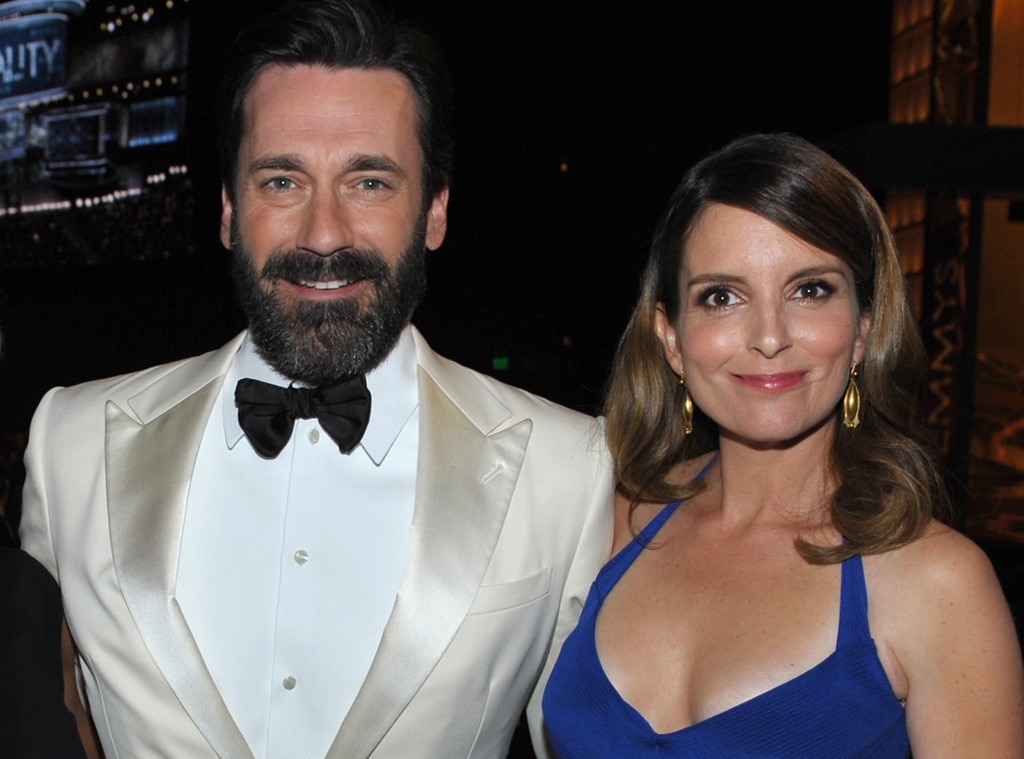 John Shearer/Invision for Academy of Television Arts & Sciences/AP Images
She continued, "At the party afterwards my cousin came up to me and said, 'I just met Jon Hamm! And he is so handsome! But I have to say I kind of like it better when he's dressed like Don Draper.' And I said: 'Yeah, he actually doesn't do it for me at all. I really like John Slattery is kind of more my deal.' At which point I heard a little voice over my shoulder say 'I can f–king hear you." And it was Jon! And yet, here he is! Giving me another award!"
As the crowd laughed, she added, "I don't know what to tell you, buddy. You can keep showing up at these things, but I just don't like you like that!…I'm Team Slatts and you can't stand it!"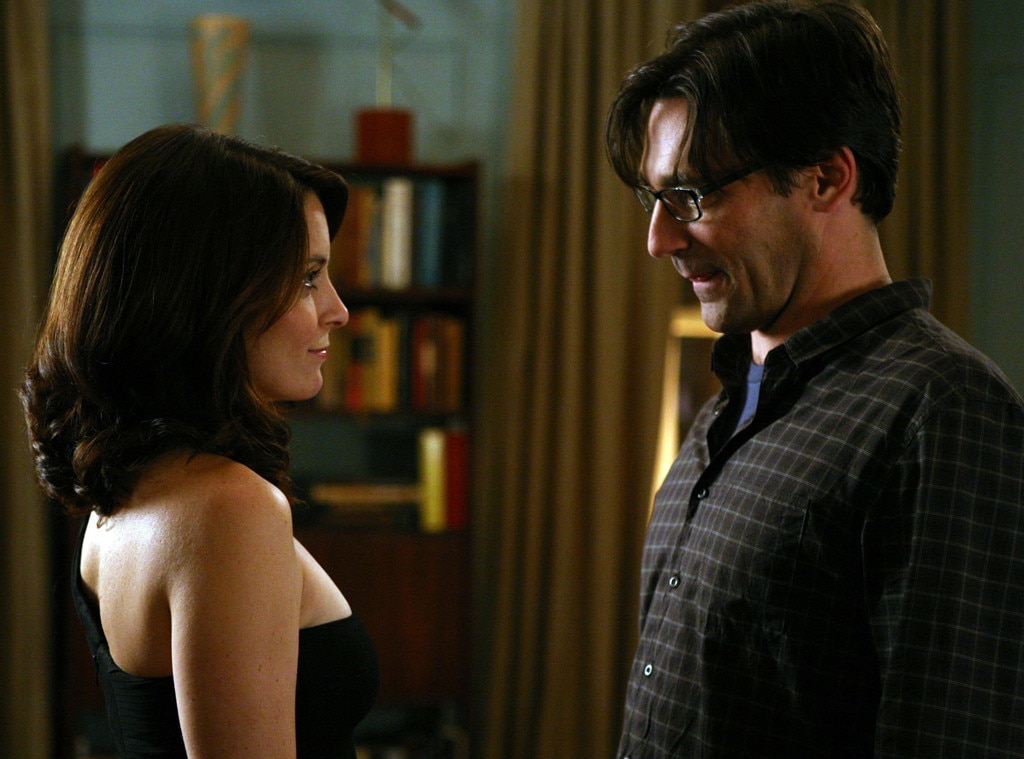 Jessica Miglio/NBC/NBCU Photo Bank
They Don't Kiss and Tell: Back in 2009 when the actor had first started working with Fey on 30 Rock, E! News caught up with him and couldn't help but ask about kissing the comedienne on-screen. Like a true friend, he had no desire to talk about it, but instead wanted to remind everyone what a talented actress she is.
"She's a lovely lady and a very nice woman and an incredible talent," he told us. "It was really fun to do all the scenes with her, not just the kissing scenes."
Fey Couldn't Take Advantage of Him: We also caught up with the actress before Hamm started his appearance on 30 Rock, and she sarcastically joked about taking advantage of him. "I might accidentally roofie him," she told us. LOL!
They Were Caught Being Awkward in This Photo: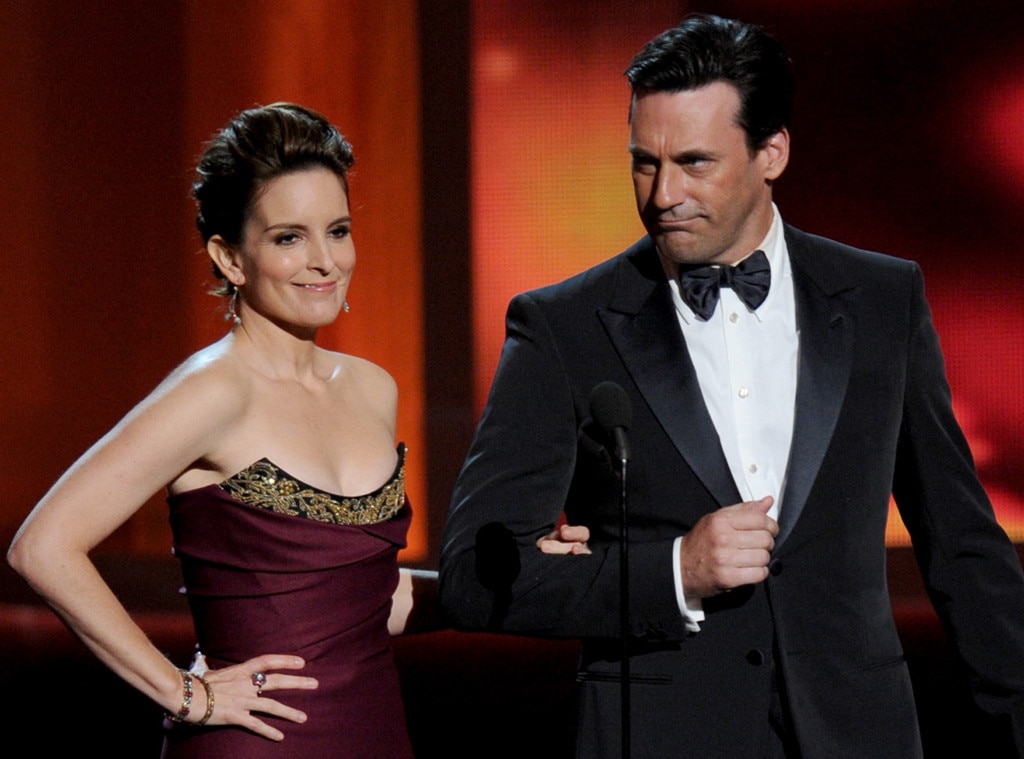 Kevin Winter/Getty Images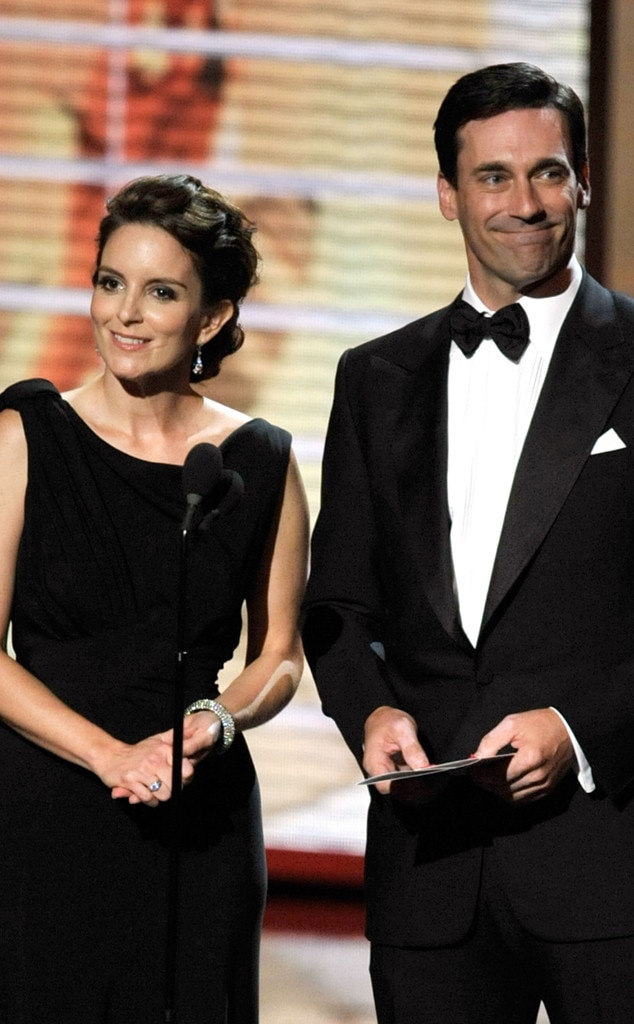 Kevin Winter/Getty Images
Fey Helped Hamm Post-Don Draper: In an interview with The Daily Beast in 2014 during the final season of Mad Men, Hamm admitted he sought help from Fey to figure out how he'd say goodbye to his character.
"I talked to Bryan Cranston about it. I talked to Tina Fey about it. Both of them played iconic characters on TV and they had to say goodbye to them," he explained. "They're like, 'It sucks. It's hard.' And I was like, 'I know, I know.' And they're like, 'Yeah… no you don't. But you're going to find out.'"
And Then Presented Him With His First Emmy Award: After being nominated 16 (!!!!) times, Fey was excited to announce Hamm had finally won the Emmy for Best Actor in a Drama Series in 2015, and the moment was perfect.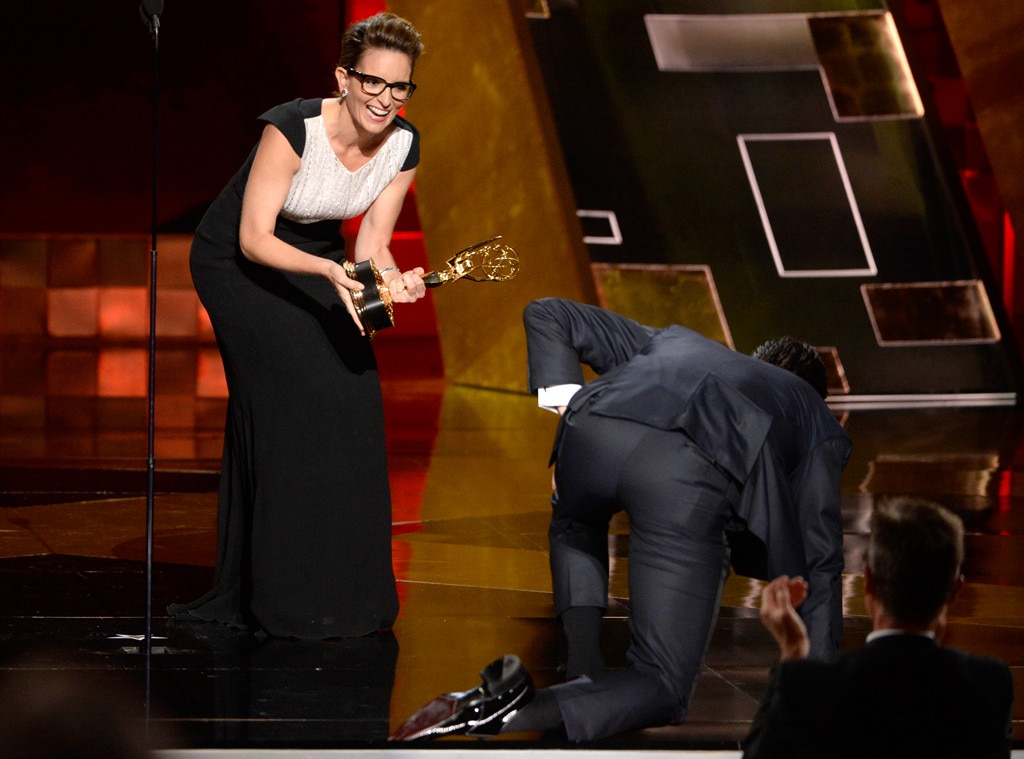 Phil McCarten/Invision for the Television Academy/AP Images
She Tried Keeping Up With Him (And Failed): When asked for her best bit of advice in handle awards season during an interview in 2010, Fey said, "Don't try to keep up with Don Draper."
She revealed that while attending an Emmy Awards after party with Hamm, she ended up throwing on sneakers, dancing the night away and drinking a bit too much.
In fact, she admitted she began yelling things at the paparazzi like, "What are you filming me for? I didn't f–k Ray J!"
She recalled, "The next day there were all these pictures on the internet that I was like, 'I don't remember anybody with a camera!'"
And thus, Fey and Hamm will go down in history as one of our all-time favorite friend duos.