This
post
was originally published on
this site
.
Before Taylor Swift was, well, Taylor Swift, she was just like the rest of us, posting vlogs on YouTube and sharing her teenage thoughts and commentary on our favorite social media platform of the early '00s: MySpace.
Today, she might be a bit more meticulous when it comes to sharing anything with the public, but before her rise to mega-stardom, she pretty much did and said whatever she wanted—including throwing some shade over one of her very famous breakups.
Since today kicks of T.Swift's 27th birthday week, we thought we'd go back in time and take a look at her old, internet life. Check out what we learned below:
1. This Was Her First MySpace Photo: Showing off her signature curly locks and doing the "duck lips" pose before it really got famous, T.Swift made this her very first profile picture on MySpace. She was obviously very proud of winning the Garland Elementary School Spelling Bee.
2. She Wasn't Always So Clean-Cut: She threw some F-bombs in lots of her comments to her friends and surely wasn't afraid to call them "bitches" and "whores"—all in good humor, of course. We're guessing these were all manifested over inside jokes among the girls she went to school with.
3. She Had an Emo Moment: This was actually taken on the set of CSI when she played a small role as a murder victim in 2009, but we loved that she posted it as an emo-pic on MySpace. Those were big back in the day! She probably listened to Taking Back Sunday (like all of us), too.
4. She Took Mirror Selfies: Before actual selfies were a thing (because we didn't have cameras on the front of our phones just yet, Kim K.), we used digital cameras and mirrors to snap pics with our friends. We love seeing that T.Swift did the same thing!
5. She Used All Our Favorite Photobooth Filters: Before Snapchat filters, we had MacBook Photobooth, and we always posted photos exactly like this.
6. And They Were One of Her Favorite Discoveries: In a MySpace post from 2007, Swift explained, "Notice all the weird pictures I've been putting up? Well, my laptop has a camera in it, and so I've been taking all these different pictures with different color treatments and stuff like that.. I love it."
Such thoughts!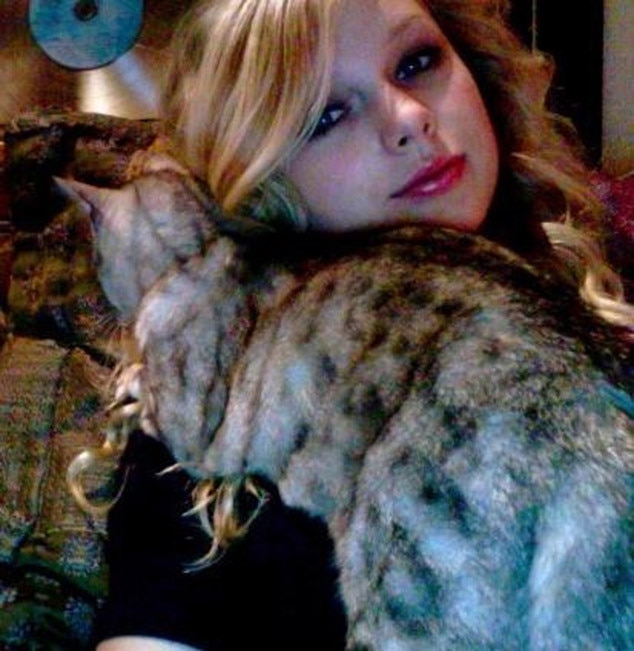 MySpace
7. She's Always Obsessed Over Her Cats: You might think Meredith and Olivia were her first feline friends, but she's always been a massive cat lover, personifying them like her children.
"My cat goes into an angry rage when I'm gone. She's like the most miserable, depressed, whining cat ever when I'm not here," TayTay wrote in a post on Sept. 17, 2008. "She just wanders around the house screaming and howling. I know this because when I'm on the road, my dad calls me and leaves me voicemails of the cat. And so when I'm home she's extra clingy. She's laying on my shoulder right now, snoring and purring. Yes, both. It's an interesting combination of sounds."
8. She Hated When People Posted "Fugly" Pictures of Her: She always cared about her public imagine, even back in the day. For example, here, she asked a friend to take down a "gross" photo. "It serves no purse other than to make me look fugly," she wrote.
Amen, girl. We've all been there before.
9. Her Favorites Christmas Movie Is Our Favorite Christmas Movie: She's a huge fan of Love Actually, which makes sense considering her birthday falls during the holiday season.
"For the past two years we've watched Love Actually every single Christmas. Because it's the best Christmas movie (or overall movie) ever made, ever," she wrote in a post on Dec. 23, 2007. "It's one of those movies with an amazing ending that makes you want a boyfriend on Christmas. Because of that, I can only watch it once a year. Ha."
10. She Threw Shade at Joe Jonas and Didn't Care: After the Jonas Brother broke up with her in a "27-second" phone call, the songstress wasn't afraid to air their dirty laundry in one of her MySpace videos in 2008.
While playing with one of the creepy Joe Jonas barbie dolls, she quipped, "See, this one even comes with a phone so he can break up with other dolls!" Oh, snap!
11. She Hung Out With Selena Gomez Way Back Then: During one of her video blogs (which she supposedly edited all herself), she shared some footage while bowling with SelGo "and the homies" at Pinz Bowling Alley in Los Angeles in 2010. (Scroll to the 1:50 mark).
12. And She Even Supported Early Justin Bieber: In this vlog she shared in August 2009, she proved she was just as big of a Biebs fan as we all were (and maybe still are), using his song "One Time" as background music throughout the video and as the title of the vlog!
13. She Sometimes Lost Her Retainers, Too: Remember the dreadful moment you had to tell your parents you accidentally threw your retainers away at lunch. Well, Taylor feels our pain.
This video centers around that one time she lost her retainers in a hotel room and had to get fitted for a whole new one. "I'll never lose my retainers again," she says in the video with a sad face. "I'm sorry."
Bonus—Just in Case You Forgot—She Loves Cats: If you can get past the fact that Katy Perry's "Hot n Cold" resounds in the background of this entire vlog (remember, they used to be friends!), then scroll to the 1:24 mark where T.Swift has an entire conversation with her cat…that lasts over a minute.
In conclusion, TayTay is basically the same person she always was before becoming one of the most famous singers of our time. She's always been goofy. She's always known how to handle social media, and she's always (more than anything) loved cats.
What's your favorite thing from her prior internet life? Sound off in the comments below!